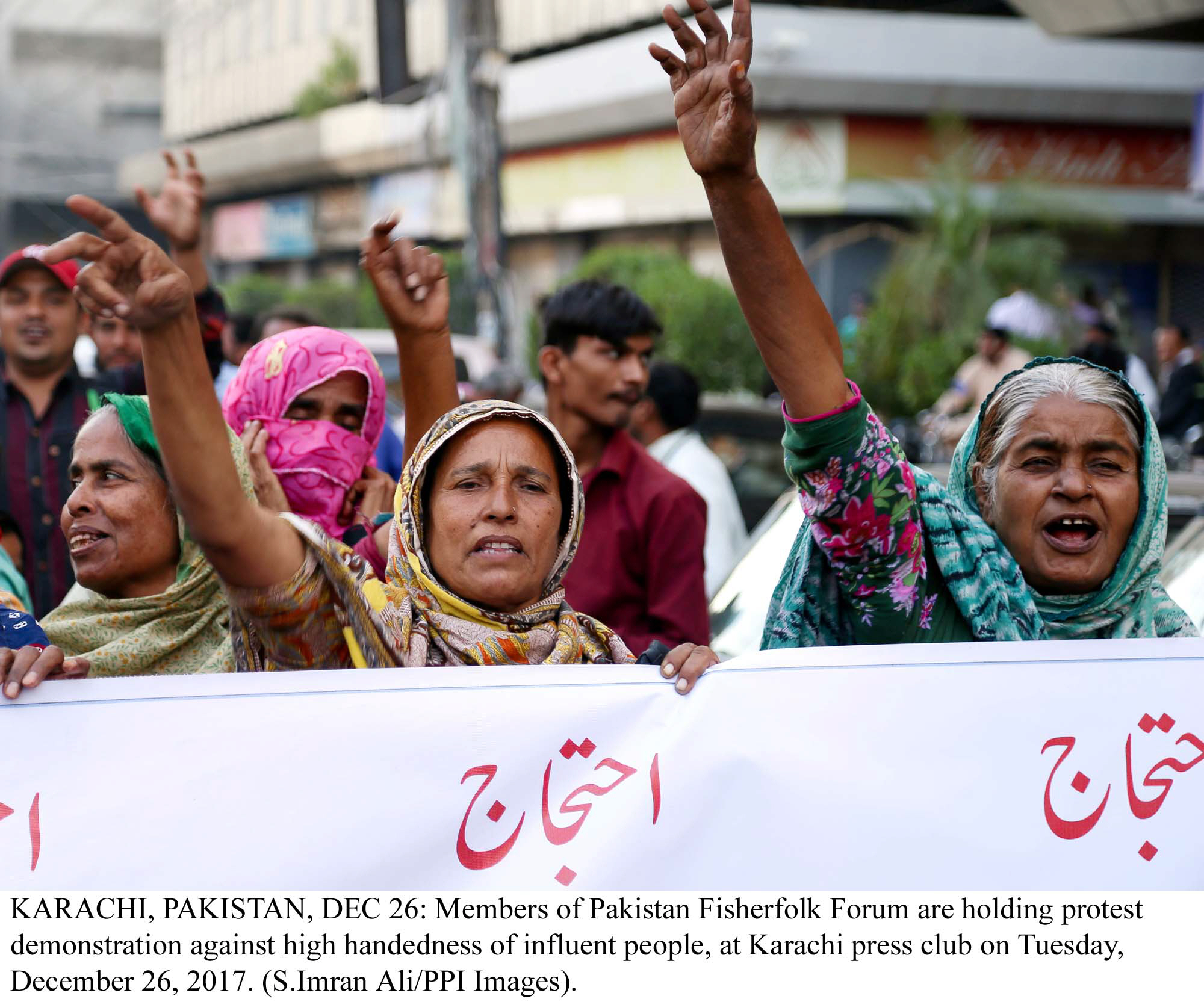 ---
KARACHI: The chairperson the Pakistan Fisherfolk Forum (PFF), Muhammad Ali Shah, has demanded to remove illegal occupations of influential and political figures on the water bodies in Sindh.

Shah also demanded the removal of Fisheries and Livestock Minister Muhammad Ali Malkani and the immediate arrest of his brother Shoukat Ali Malkani.

He made these demands while addressing a rally outside the Karachi Press Club on Tuesday. A significant number of elderly women, children and youth of the fishing community participated in the protest along with civil society members and political figures. The rally was held in the wake of the harassment and abduction of Shah and other PFF office bearers in Sujawal district during their field visit to the illegally occupied Babli Lake in Shah Bandar on Monday afternoon.

The protesters arrived from Karachi's coastal settlements and chanted slogans against the Pakistan Peoples Party (PPP) minister, his brother and associates who beat the PFF officials. Holding placards, they demanded an end to the victimisation of the fishing community by influential persons as well as their illegal occupation of sweet water bodies.

Workers protest against privatisation of hospitals

The incident took place in Shah Bandar taluka, Ladiyoun union council in Sujawal district. Sujawal District President Noor Muhammad Thaheemore, who was beaten by more than a dozen armed associates of the minister's brother, showed the bruises and cuts on his face, neck, back, shoulders and arms to media personnel at the rally.

Rallies were also held in other districts of Sindh including Sujawal, Thatta, Sanghar, Badin, Hyderabad, and Jamshoro.

"The harassment, victimisation and all other forms of inhuman treatment of our [people] cannot suppress our strength," Shah told participants of the rally.

According to him, the illegal occupation of indigenous lakes is still being done by feudal lords and political figures in spite of the Sindh High Court's order to end the illegal occupation of all water bodies in the province.

"The feudals are snatching the bread and butter of the underprivileged fishing community," he lamented, expressing his resolve to continue their struggle against illegal occupations until no water bodies are under the control of influential people.

Shah demanded the chief minister remove Muhammad Ali from his post of minister and urged the inspector-general of police and Rangers director-general to arrest Shoukat Ali. He warned if these two demands were not fulfilled, CM House would be surrounded as part of the fishermen's struggle.

Pakistan Institute of Labour Education and Research Executive Director Karamat Ali said that it is a human rights issue to abduct a senior activist like Shah and his fellow colleagues to derail them from their objectives. According to Ali, it is disheartening that the crime has been perpetrated by lawmakers who are elected by public votes.

Feudal lords and influential persons should think twice before threatening fishermen's livelihoods, he said, adding that water sources are public property.
COMMENTS
Comments are moderated and generally will be posted if they are on-topic and not abusive.
For more information, please see our Comments FAQ