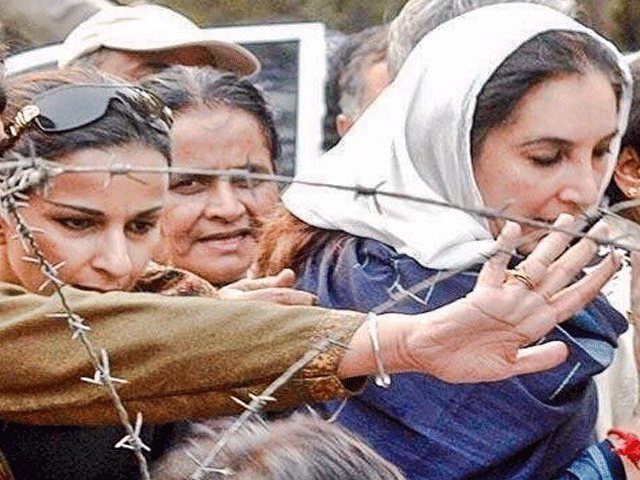 ---
KARACHI: Exactly 10 years ago today, Benazir Bhutto was assassinated in a 2007 gun and suicide attack while she was leaving a rally in Rawalpindi. Pakistan instantly plunged into a deeper political turmoil but Sherry Rehman said it seems like BB died yesterday.

"The first time I met her in person, I remember thinking how she filled the room with her presence. There was no doubt about it, even her detractors would say that Benazir Bhutto dazzled everyone she met. While we had met several times over the years, in groups and public events, the first time I met her for an extended period of time was after her first government was dismissed," recalled the Pakistan Peoples' Party leader.

"She was visiting a mutual friends' home and had asked to meet at a casual dinner. We hit it off instantly, because she was both charming and approachable, engaging everyone in the room individually. We talked initially about the state of politics in Pakistan, the travails of the PPP, current events, and even how women navigate public life in stratified societies. What impressed me most was her intellect and integrity. We became friends after that encounter, meeting regularly wherever we ended up in life. Until she was assassinated, she would remain my daily email or text if she was in Pakistan first thing in the morning, and I was usually her last email, as was Farhatullah Babar, at the close of business well past midnight. To this day she remains, by far the most courageous, exceptionally strong woman I have ever known."




In her, Pakistan lost a great leader, and an entire era of politics, said Rehman.

Benazir was pronounced dead at a hospital in Rawalpindi, the same city in which her father Zulfiqar Ali Bhutto, a former prime minister, was hanged in 1979 after being deposed in a military coup.

"Ten years is a long time in politics but quite honestly, December 27, 2007, still feels like yesterday to me. Even though time has dulled the shock of losing her, I don't think I have still come to terms with this loss, and what it means for all of us."

After the October 18th [Karachi] blast, we all just kept going, because she wanted us to. I remember her waiting for me that night right after we got off her burning truck, scooping me into her car as six of us squeezed in after the two blasts, and driving to Bilawal House in a daze. We didn't know how many were injured, or even what would await us at Bilawal House because after the blast and half the street lights being surreally off, and security protocols all compromised, all bets were off. At one point she said my back looked odd, as I was literally sitting in her lap, and we both realized half of my back was burnt from the blaze. She tried to send me to the hospital later, but so many were worse off, that we would forget our injuries and get on with the jobs we had. The next day, we were all on our feet, while she did a press conference facing off the forces that wanted her gone. For many of us, she represented the force that stood between the terrorists and a different life, full of hope and promise, said the PPP leader.


On December 26, 2007, Rehman said, BB didn't die in the car in which she was travelling.

"Her own car was armour plated, but its tires had almost gone from the ferocity of the blast, and it was obvious the vehicle could not carry on very long. My car had followed her without me. She was taken to the hospital in my car, where she was bleeding heavily, but it is not possible to say at which point she had taken her last breath."

"She was a danger to the terrorists and cohorts of bloody extremism," said Rehman and added, "She was a danger to anyone who didn't want Pakistan to democratise, to all those who stand in the way of inclusion, of reform, of a progressive Pakistan."

Ten years feels like it has gone by in a heartbeat. With me, it's like my lodestar is gone. I didn't want to carry on in politics without her, as it was she who brought me in, and after her death, was wheeling my bag out of Naudero House when Asif Zardari stopped me and asked, "How are we supposed to go on in these terrible times without her core group?  I have inherited some of you in my jehaz [ship], now stay and help rebuild.




"In my mind, I must confess, I still talk to her when posed with hard choices. I try to act as she would have advised me. Any promises made with her, by her side, to anyone, must be fulfilled," said Rehman.

According to the PPP leader, the party and the Bhutto family waited long for justice in BB and Zulfiqar Ali Bhutto murder cases by the judiciary failed us.

"The system has failed us in Shaheed Zulfiqar Ali Bhutto's case, it has failed us in Shaheed Benazir Bhutto's case," said Rehman.

An anti-terrorism court in August this year had declared Pervez Musharraf a fugitive in the murder case of former prime minister Benazir Bhutto and acquitted five people in the killing.

While commenting on Bilawal Bhutto Zardari's leadership qualities, she said, "Bilawal is a lot like his iconic mother, in the way he reasons and thinks. One thing that defines his politics is clarity about fundamental issues that is missing in others in the political spectrum. He has that intrinsic love for the downtrodden, and that empathy with the weak or the dispossessed that runs very strong in the Bhutto DNA."




"It will be very exciting to have BBZ in the next general election. The political mix will change because of him, and so will the national discourse," anticipated Rehman.

The PPP leader also fixed her eyes at the ruling Pakistan Muslim League-Nawaz who she said, "got caught up in their own privilege-story and drank too much of their kool-aid."

"Benazir Bhutto Shaheed, in her prescience had reached out to Mian Nawaz when both were in exile. I remember the resistance from many quarters because don't forget, the N-League was responsible for making up the entire charges against her and her husband, for which he spent a total of almost twelve years in jail."

According to Rehman, "Forgiving your enemy and your tormentor, and doing so genuinely is the ultimate act of spiritual and political maturity. Benazir Shaheed taught us all that," but she added, "The N-League are now paying the price for ignoring the lessons of history, for imagining they are above the law, and for breaking trust with the Charter of Democracy."


COMMENTS (1)
Comments are moderated and generally will be posted if they are on-topic and not abusive.
For more information, please see our Comments FAQ