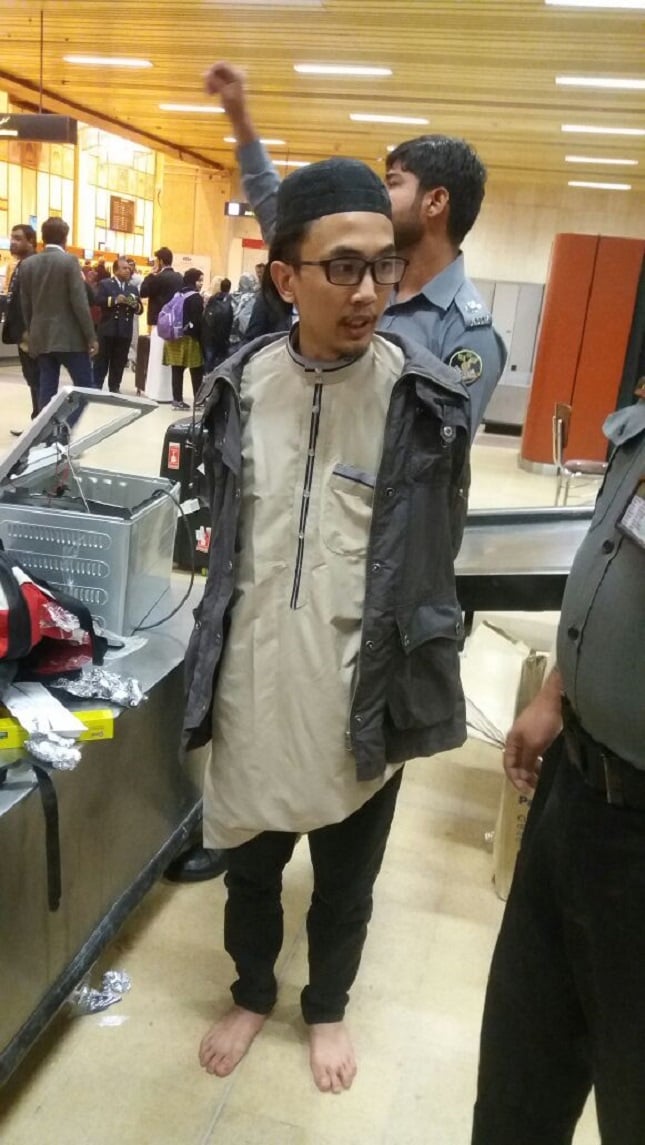 ---
KARACHI: A Malaysian national arrested at the Karachi airport for trying to smuggle weapons and ammunition is currently under investigation for having links with the Islamic State.

On Saturday, Al Muhd Alfie Kqhyriel tried to board a Malaysia-bound flight TG-342 while carrying four pistols, eight magazines and 71 bullets hidden in his luggage and shoes.




PHOTO: EXPRESS

Airport Security Force (ASF) senior official Faisal Yaseen said, "The ASF personnel intercepted a  suspicious-looking passenger crossing the security belt at the departure area of the Quaid-i-Azam International Airport."

"The suspect hesitated when we asked him to remove his shoes and place them on the scanning machine," he said, adding that "we arrested him and found pistols and ammunition hidden in his shoes' cavities and microwave oven".

Officer Yaseen said that according to the Malaysian national, he had arrived in Karachi a day earlier.

Suspected Daesh commander killed in Karachi's Manghopir, police claim

Intelligence agencies officials deputed at the airport took him into custody and shifted him to an undisclosed location for further questioning, the officer added.

The accused was not handed over to the Airport police station till the filing of this news story.

Sources said the country's top intelligence agencies are currently interrogating him, adding that he is also being questioned for possible links with Da'ish.

Meanwhile, security forces are looking for his facilitators and possible comrades within the country.

In 2015, an FBI agent Joel Cox was arrested by the ASF. He was attempting to board a domestic flight to Islamabad when the ASF found 15 bullets of 9mm pistol and a clip in his baggage.