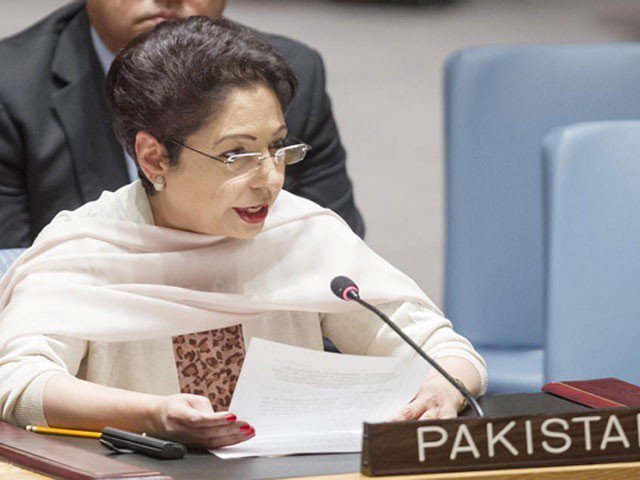 ---
Pakistan's Permanent Representative to the United Nations (UN) Maleeha Lodhi said Pakistan will continue to support the just cause of the Palestinians despite receiving threatening messages from the United States (US).

The United Nations General Assembly earlier voted on Thursday to overwhelmingly reject the US decision to recognize Jerusalem as the Israeli capital.

The resolution, co-sponsored by Pakistan and other Muslim countries, was victorious with a decisive vote of 128 to nine in the Palestinian favour.

Speaking on the occasion, Pakistan's permanent representative said that support for the Palestinian cause and the defense of the Al-Aqsa mosque (Bayt-al Maqdas) were basic tenets of the country's foreign policy.

Pakistan to co-sponsor resolution at UN for withdrawal of US Jerusalem decision

"Despite threats by certain powerful countries, Pakistan will continue to support the people of Palestine unconditionally in their quest for justice," Lodhi affirmed.

"We are standing at a critical turning point in the history of the world, and responding quickly and effectively to recent diplomatic developments in the international arena is the need of the hour."

Maleeha Lodhi also noted that the passage and approval of the UN resolution in favour of Palestine had delivered a telling message to the United States on behalf of the international community.

"The world has told the US that it categorically rejects US President Donald Trump's 'illegal' decision to recognize Jerusalem as the Israeli capital," Lodhi said.

Pakistan to launch diplomatic campaign against US decision on Jerusalem

She also defended the use of the United Nations as the platform from which to support the oppressed Palestinians.

"The UN General Assembly is like an international parliament. It is the right place from which to tell the people of Palestine that the world stands by them," Lodhi said.

But she also warned that the Palestinians were rapidly losing confidence in the United Nations.

Pakistan opposed to Trump plan for recognising Jerusalem as Israeli capital

Before the General Assembly voted on the motion, US President Donald Trump had delivered threatening remarks to UN member countries in a naked display of power, saying the US would 'withhold aid' to the nations that supported the resolution.

US Ambassador to the UN Nikki Haley also wrote an aggressive letter to UN envoys in New York before the ballot, saying that she would keep count of each and every vote, reporting back to her boss as to who had voted in favour of the resolution.
COMMENTS (2)
Comments are moderated and generally will be posted if they are on-topic and not abusive.
For more information, please see our Comments FAQ