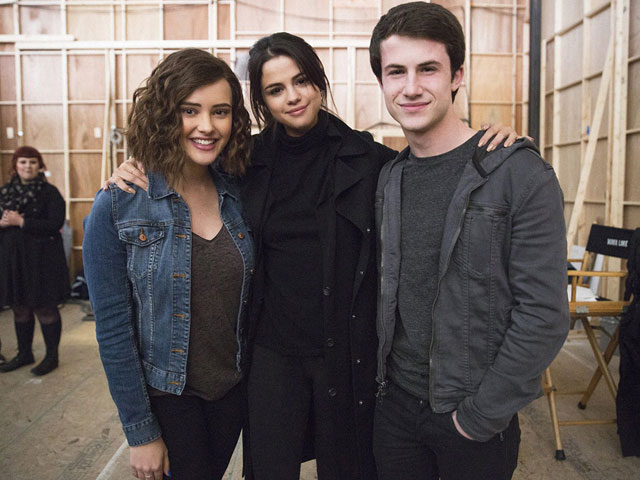 ---
The father of a dead teenager believes Selena Gomez is responsible for his child's death.

John Herndon - who lost his 15-year-old this spring -
claims his daughter Bella was triggered to commit suicide after binge-watching the hugely popular Netflix series 13 Reasons Why.

Peruvian man commits suicide, leaves behind tapes imitating '13 Reasons Why'

As the show, on which the Bad Liar singer acts as an executive producer along with her mother Mandy Teefey, revolves around a high school student who kills herself, the concerned parent is threatening to sue Selena and the streaming service for "making a product about people who are hurt and how they can hurt themselves."




"I'm still completely disgusted," the Livemore, California, resident tells Radar Online. "Selena makes me sick. She is an extremely disturbed individual to think that this show has any kind of redeeming social value at all."

John and his wife Donna discovered their daughter Bella hanging in her closet on April 18. The teenager was rushed to the hospital, where she passed away 10 days later.

Is '13 Reasons Why' glorifying suicide among teens?

According to the dad, Bella was a straight-A student who was seeking counseling for depression after being bullied at school. He claims the show was a trigger for his daughter that led to her taking her own life days after completing season one.

"Remember that there are teens out there that are in a little darker place and these could be your friends, your sisters," he says. "Selena and Netflix need to understand that not everybody's going to understand this very well. For some people who are battling with depression, this could catch them at the wrong time, creating what is called the trigger event."




John explains he's tried contacting the pop star about canceling the show, but his pleas were ultimately ignored as filming for the second season had recently wrapped.

"I asked that she remove her support and get Netflix to stop," he shares. "I received no response."

Online 'suicide' searches spiked after '13 Reasons Why'

John also calls Netflix "hypocritical" for firing House of Card's Kevin Spacey and The Ranch's Danny Masterson after allegations of sexual misconduct, but continuing production on 13 Reasons Why when two teenagers committed suicide shortly after watching the 13-part serial.

"They made those decisions to make themselves look like a socially responsible company. Yet they are making a product about people who are hurt and how they can hurt themselves," he blasts. "How many people have to be hurt before somebody aside from me stands up and says, 'You know, this is wrong'."




The heartbroken father adds he's "sick" to see Selena talking to the press about her own depression and mental health without doing anything to help get 13 Reasons Why off the air.

"She has spared no expense rattling her own saber about her kidney transplant," he says of the Disney Channel alum, who underwent a life-saving surgery this summer after lupus wreaked havoc on her organs. "She talked about how painful it was and spent significant effort getting that 'oh poor me' out there. That's just disgusting."

13 Reasons Why: Hannah lives and dies in all of us

Though John admits "suing a billion-dollar company like Netflix is not within my means right now," he says he'd "do it in a heartbeat" if other like-minded individuals are willing to join him in taking cast and crew of 13 Reasons Why to court.

"Selena, Netflix, the show director, screenwriter – anybody I could think of," he vows.




13 Reasons Why is based on Jay Asher's 2007 young adult novel of the same title. Set in the California's Bay Area, the book centers around a 17-year-old Hannah Baker, a high school student who kills herself and leaves behind a set of tapes for the 13 people she blames for playing a part in her decision to take her own life. The show also touches base on polarising topics such as bullying and sexual assault.

13 Reasons Why: If someone told you they were in pain, what would you do?

While Selena has yet to respond to John's concerns, she did previously defend the show's heavy subject matter in a Netflix video released to accompany the series. "We wanted to do it in a way where it was honest, and we wanted to make something that can, hopefully, help people, because suicide should never, ever be an option," she said.

Have something to add to the story? Share it in the comments below. 
COMMENTS (1)
Comments are moderated and generally will be posted if they are on-topic and not abusive.
For more information, please see our Comments FAQ