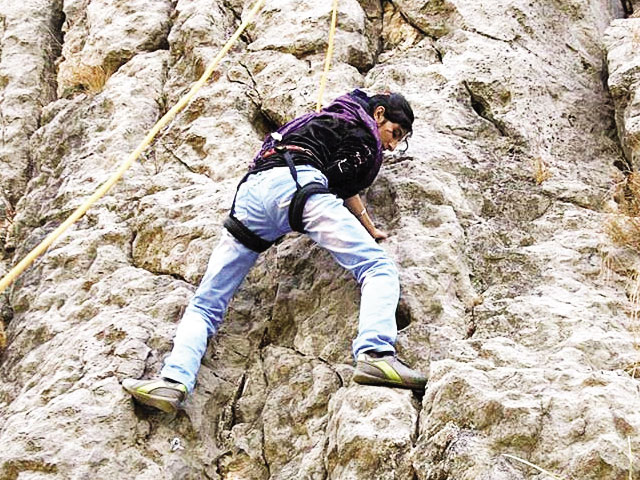 ---
ISLAMABAD: They say the first step to climb a mountain is to climb the first rock.

A group of young, excited youngsters took the first step, learning mountaineering skills during a rock climbing event in the Margalla Hills on Sunday.

The event had been organised by the Development Communications Network (Devcom-Pakistan), Ibex Club, and the Adventure Club.

Sunday's excursion was the last event under the seventh Pakistan Mountain Festival, an annual thematic advocacy festival to mark the importance of mountains and for raising awareness on issues confronting the mountainous regions of the country.

The winners in different categories include Mushahid Shah, Asadullah Shah, Dawood Ahmed, Shahzad Butt, Sharafat Hussain, Shahzad Butt, Akmal Naveed, Iqra Jilani, Maira Jabbar, Shamsa Khan, Momina Zulfiqar, Nimra Guftar, Bushra Humayun, Zainab Zulfiqar, Maya Esam Khattak, Amna Adeel, Wareesha Adeel, Inaya Esam Khattak, and Rayyan Waqas.

Speaking on the occasion, Devcom-Pakistan Director Munir Ahmed said engaging the youth in outdoor activities naturally teaches them about living in harmony with nature and to become 'eco-guards'.

"We need to educate everyone to behave in a nature-friendly manner because our entire life and needs depend on nature, natural resources and ecosystem services and goods. Though we need to drive benefits from nature and natural resources, we also need to learn to conserve and develop concepts on which the global community has agreed to work on."

Ahmed went on to explain that the mountain environment and ecosystem are quite fragile apart from being quite important for human life and for other species.

"We shall learn and practice mountain-friendly actions and help in strengthening the voices of mountain communities. This land belongs to everyone and every one of us needs to play an objective role in combatting the abject miseries of the environment," Ahmed said.

Ibex Club President Esam Khattak said that rock and wall climbing help strengthen the physical and muscular power of youngsters while helping to keep them in shape.

"Playing in nature and enjoying tourism in the mountain environment, we shall be extra careful towards nature," Khattak said.



Published in The Express Tribune, December 18th, 2017.