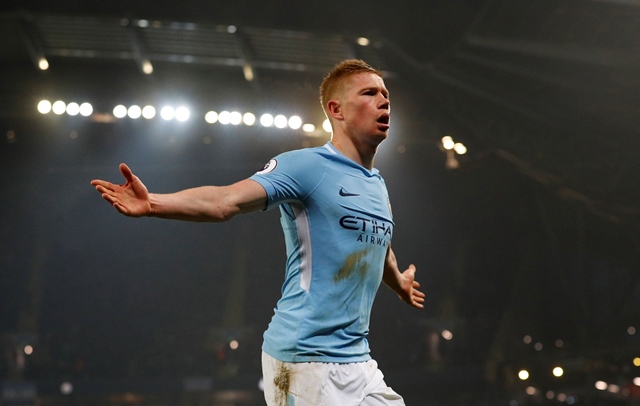 ---
KARACHI: Manchester City's ace midfielder Kevin De Bruyne (KDB) has been in sublime form for his club since the start of the campaign.

The Belgian maestro once again showed his class in the weekend's clash against Tottenham Hotspur, where his goal opened the floodgates for the home side, who went on to register a comfortable 4-1 victory over Mauricio Pochettino's men.


Title race over, says Mourinho after derby defeat


Arguably the highlight of the match, however, was De Bruyne's goal and subsequent celebration, where after hitting the ball through Hugo Lloris into the back of the net, the Belgian went over to the fans and lifted up his fingers to signal '2-1'.


Kevin De Bruyne signalled '2-1' after he scored vs Tottenham. PHOTO: SCREENGRAB

After the match, people on social media started to speculate awhat KDB's celebration actually meant.


After derby defeat, Mourinho clashes with City players: reports


One popular narrative on Twitter was that the 26-year-old took a dig at Jose Mourinho's Manchester United, who were beaten 2-1 in the derby not that long ago.

The derby had an ugly side as well, with reports of a tunnel brawl after the match.



https://twitter.com/William_Giles/status/942107247773175809


De bruyne's celebration tells me there were wild celebrations in that tunnel last week 👀

— Hogan Ephraim (@HoganEphraim) December 16, 2017
Is De Bruyne mugging Manchester United off with his 2-1 celebration? 😂😂😂😂

— Ryan Beaumont (@RBeaumont9) December 16, 2017
Does De Bruyne think Spurs have scored in this game or was that celebration just a dig at Utd? Great finish though. #MCITOT pic.twitter.com/kJVx0Rkxu5

— Robert Dalling (@RobertDalling) December 16, 2017


Mourinho lands in hot water for pre-derby comments

Another theory which emerged after the match was that the celebration was to remind Spurs of the 21-point gap between the two sides.

However, the real reason behind the '2-1' celebration was confirmed by De Bruyne's teammate Leroy Sane's post-match tweet, which stated that it was a message for the Belgian's central midfield partner David Silva.


Yeeees... The next big win! 🔥⚽🔥 We showed again why we are @PremierLeague No1! 🔝#inSané #LS19 #MCITOT @mancity pic.twitter.com/YdNWecaY0a

— Leroy Sané (@leroy_sane) December 16, 2017


It is not clear why City players have paid tribute to Silva, but the Spaniard missed the Spurs game due to unknown 'personal reasons'.


COMMENTS
Comments are moderated and generally will be posted if they are on-topic and not abusive.
For more information, please see our Comments FAQ