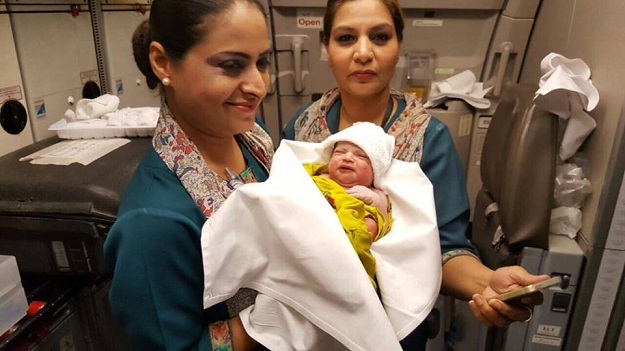 ---
A Pakistani woman gave birth to a baby girl on an international commercial flight travelling from Madinah, Saudi Arabia, to Multan on Tuesday.

"Miracles happen everyday and we had our little miracle today onboard our flight PK 716 from Madinah to Multan," the Pakistan International Airlines said in a statement issued on their Facebook page. "A beautiful baby girl was born!"

The cabin crew assisted with the emergency delivery. "The parents were over joyed and expressed their gratitude to the cabin crew members who helped with the delivery."

Indian baby born on flight to get free air tickets for life

[fbpost link=""]

As congratulations poured in for the parents, some questioned why the woman was allowed air-travel if she was full-term.


Seriously?? How come she got on board in first. ICAA Laws on health and safety it is not allowed to let due pregnant pax?

— M Zahid 🇵🇰 (@Mzee_online) December 12, 2017
How did a pregnant woman get on board. Aren't there check.

— 3422-- Occupied pakistan ko azad karo e (@Adnan_Cyprian) December 12, 2017


https://twitter.com/Tahir_Masood89/status/940501479919677441

Speaking to The Express Tribune, PIA Spokesperson Mashood Tajwar said the medical professionals from Civil Aviation had informed the airline that the delivery was premature.

Responding to a question on allowing a pregnant woman to travel, Tajwar clarified that "she did not appear to be full-term" to the crew members when she boarded the plan. It is pertinent to note that the security check falls under the ground staff of an airport.

Tajwar revealed that the flight was diverted to Karachi, due to weather conditions in Multan, where the baby and mother were examined by the doctors. They were given a go-ahead to travel to Multan.

Earlier this year, an Indian woman went into premature labour on a Jet Aiways flight between Dammam, Saudi Arabia, and Kochi, India. The woman was believed to have been around 32 weeks pregnant when she gave birth.

Jet Airways said it was the first time a baby had been born on one of its flights and that it had given him free travel for life on the airline. However, PIA spokesperson said the policy differs from airline to airline.