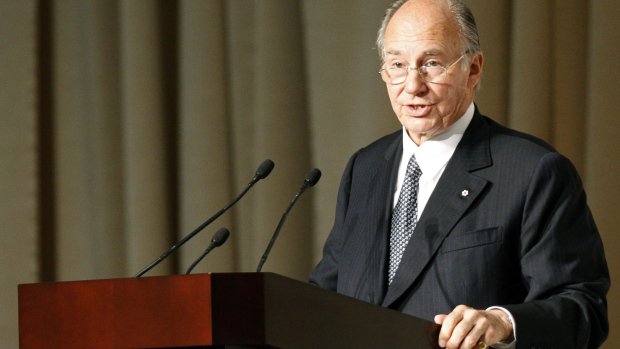 ---
His Highness the Aga Khan, the 49th hereditary Imam of Shia Imami Ismaili Muslims, is on a visit to Pakistan. Many Pakistanis are familiar with the Aga Khan given the large number of social service institutions that bear his name. These institutions, in fact, represent the Ismaili Imamat's long-standing commitment to the betterment of the people in Pakistan.

The Aga Khan's grandfather, Sultan Mahomed Shah Aga Khan III, was the first President of the All India Muslim League and a vigorous advocate of the Muslim cause during the British Raj. In addition to supporting the Aligarh Muslim University through fundraising efforts and personal contributions, he sought to advance mass education for Muslims by establishing a large number of schools, the earliest of them in Gwadar in 1905.

The present Imam has expanded his grandfather's work. The Aga Khan Development Network, established and led by him, has operations in education, healthcare, tourism and infrastructure development that are well known to Pakistanis. However, many of us may not be too familiar with how these development endeavours are grounded in the Aga Khan's mandate as the Imam.

Aga Khan arrives today

In a 2006 speech, the Aga Khan noted: "I am fascinated and somewhat frustrated when representatives of the Western world… try to describe the work of our Aga Khan Development Network… either as philanthropy or entrepreneurship. What is not understood is that this work is for us a part of our institutional responsibility — it flows from the mandate of the office of Imam to improve the quality of worldly life for the concerned communities."

More broadly, the mandate calls upon the Imam to give practical expression to the ethical directives of Islam. While this manifests itself in many aspects of the Aga Khan's work, his views on education are particularly salient in today's context.

As a society, we are increasingly defining the purpose of education through economic idioms. Education is often viewed as a pipeline to the workforce and students are seen as either current or future economic actors — consumers, workers or aspiring entrepreneurs. School curricula are modified to produce workers for the economy. This dominance of economic logics, however, is harmful because it not only narrows the scope of what is taught in schools and universities, but also re-configures the ways in which we value and engage with one another. If one is not economically productive or does not have the monetary resources to enroll in high profile universities then one's human worth is questioned. It is, hence, imperative to excavate counter-discourses to disrupt this reduction of individuals and social projects to economic metrics.

The Aga Khan's framing of education provides one such alternative way of conceptualising the purpose of education. Grounded in Muslim ethical traditions, it calls for moving beyond economic metrics. Thus, instead of viewing education exclusively as a path towards accumulation of wealth, the Aga Khan perceives the acquisition, production and transmission of knowledge as a means through which one endeavours to understand and appreciate Allah's creations and strives to make a positive contribution to one's communities and societies.

This does not mean that we must refrain from advancing our material well-being; rather, it means that any accumulation of wealth must be in keeping with the ethics of Islam. These ethics include generosity, kindness and public welfare. Education then teaches us to understand how our welfare is dependent on others, and how others' welfare is in turn dependent on us. Such an approach to education perhaps would rein in the unbridled greed and individualism we find in society today.

The Aga Khan also sees an important role for education in addressing conflicts, particularly those based on identities. He has argued that schools have an important role in teaching about pluralism. A critical premise of pluralism is the recognition that diversity of gender, ethnicity, and religious interpretation are a fact of existence. We are thus called on to explore how these differences divide and unite us. In the context of patriarchy, for example, social divisions based on gender mean that men enjoy a privileged position in society, and women suffer when they are deemed less-than-man. A thoughtful engagement with pluralism would call on us to understand how gender divisions are created and maintained, and work towards mitigating the negative, oppressive effects of such divisions.

London Mayor Sadiq Khan arrives in Lahore

Teaching about pluralism in schools then entails understanding how human differences shape societies. It is not about erasing differences but figuring out policies, institutions and practices through which we can collectively live in harmony, without giving up our specificities. Indeed, as the Aga Khan notes, what is required is "a readiness to work across frontiers of distinction and distance without trying to erase them."

I believe that the Aga Khan's narratives have much to offer us in re-thinking our approach to the meaning of education. We must not let education become another social project in the service of personal material aggrandisement. It must instead offer us ways to thoughtfully engage with human differences and work towards creating an egalitarian social order.

Note: This piece is based on an academic article written by the author entitled, Envisioning an alternative to the neoliberalisation of education in the global South: the Aga Khan's philosophies of education, published in Discourse: Studies in the Cultural Politics of Education, 2015.

Published in The Express Tribune, December 8th, 2017.

Like Opinion & Editorial on Facebook, follow @ETOpEd on Twitter to receive all updates on all our daily pieces.