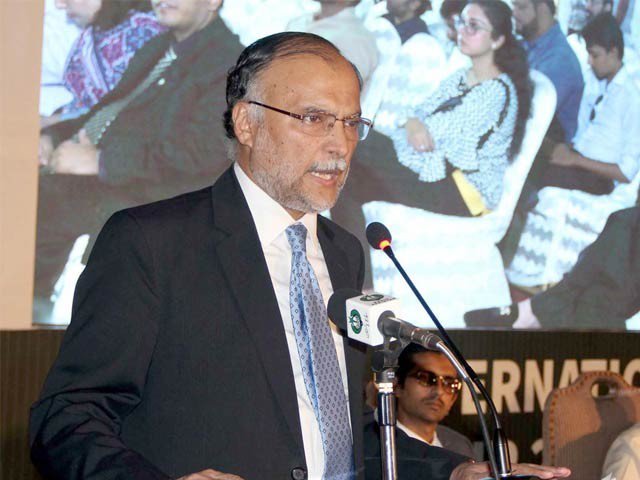 ---
Interior Minister Ahsan Iqbal has said that Israel has reached the third position in the world in scientific development, while all the higher education institutions of Pakistan have not been able to register as many patents as one top university.

"We need to produce scientists like Al-Biruni and Ibn-e-Khaldun again," he said while addressing a gathering on Thursday. The minister was commenting on United States President Donald Trump's announcement about shifting his country's embassy in Israel to Jerusalem.

He said technology had an important role in life and new inventions had formed the basis of the industrial era. The technology of the previous century had brought about a revolution, he added.

Faizabad protesters falling prey to foreign conspiracy: Ahsan Iqbal

He said the country had been subjected to conspiracies during the past 70 years and civilian governments were not allowed to work. Dictators ruined the country and demanded that the political governments should be improved, he lamented.

Iqbal said the government had succeeded in overcoming the problem of load-shedding by increasing power production by 10,000 megawatts in four years. The textile and fertiliser industries had been revived.

He claimed that the country's GDP growth would have surpassed 6.5% if the government had not faced political crises.  After issuing licences for 3G and 4G telecommunication technologies, Pakistan was ready now for 5G, he said.

Ahsan Iqbal laments another 'dharna' in capital with major CPEC huddle just days away

He said peace and stability were needed in the country but some powers wanted to create uncertainty. Not the image of the country created by the recent Faizabad sit-in but the one being built by the country's youths was needed, he said, adding that the aim of the protest launched with a religious slogan was in fact to destabilise the government. He said more religious decrees were issued in Pakistan than anywhere else in the world. "We have no shortage of muftis and pirs but we lack scientists."

He said countries could gain success only with the participation of their people. Progress was like a cricket Test match and not a T-20, he said.