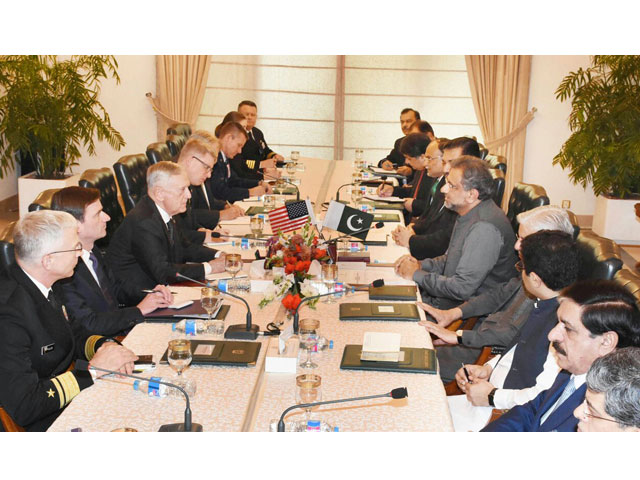 ---
KARACHI: While telling Defence Secretary James Mattis that enough is enough, Pakistan had told the visiting dignitary that its hands were tied up in the fight against terrorism and would no more accept the oft-repeated mantra of 'do more' against alleged safe havens in the country, Roznama Express has learnt.

Sources in the federal government said Mattis was told that Pakistan would not conduct any joint operation inside its territory, reiterating that any evidence about the presence of terrorist networks on its soil should be shared with the civil and military leadership.

Authorities told the visiting delegation that Pakistan will continue conducting operations against terrorists, which is in its national interest.

US defence chief urges Pakistan to 'redouble' efforts against militants

The US officials, inside sources said, were told that the Trump administration's new policy for Af-Pak region was not acceptable, and if it wanted to improve ties, then it should change its policy.

In August, the US president outlined a new strategy for the war in Afghanistan, chastising Pakistan over its alleged support for Afghan Taliban.

During meeting with the US defence chief, it was decided that the dialogue process between the two countries would continue through diplomatic contacts.

Mattis assured that the Trump administration wanted to strengthen its ties with Pakistan by increasing diplomacy on all issues.

US ready to address Pakistan's legitimate concerns, Mattis assures Gen Qamar

Meanwhile, diplomatic sources said the firm stance adopted by the country's civil and military leadership is likely to make US change its current stance.

Mattis also assured Pakistan that the US will take appropriate action against militant groups in Afghanistan that were spreading unrest in Pakistan.

Both sides, the sources added, agreed to take Afghan President Ashraf Ghani into confidence to establish peace in Afghanistan.

While Pakistan assured to cooperate in resuming the Afghan reconciliation process, insiders said a breakthrough in this regard was expected soon.
COMMENTS
Comments are moderated and generally will be posted if they are on-topic and not abusive.
For more information, please see our Comments FAQ