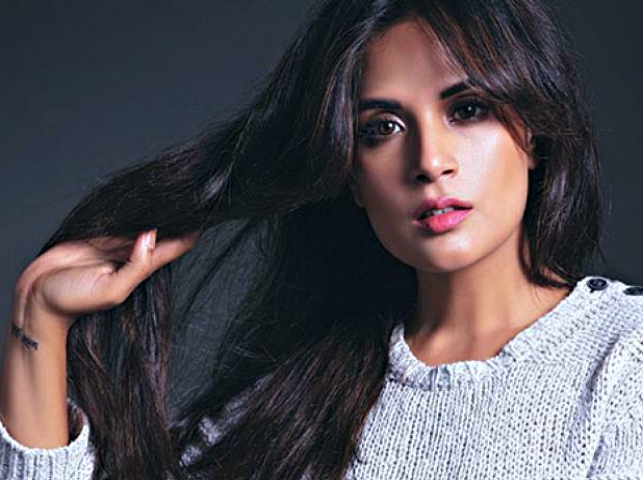 ---
LAHORE: It's seldom the talk of the town that a woman shines with her prowess in a comedy film dominated by lads. But it's high time we rethink this notion because Bollywood actor Richa Chadha has managed to pull off the coup in 2013's Fukrey. This film not only became an overnight success but was also one of the best of the year.

Richa earned ample fame and success within nine short years. Who knew the geeky Dolly from Oye Lucky! Lucky Oye! would one day shiver the conventional beliefs pinned down to the leading ladies of Bollywood?




In an industry where there was once no female courageous enough to throw punches, Richa truly came, saw and conquered. Although she was faced with a role consisting ruthless facets, that too in the very beginning of her career, the actor managed to pull it off.

That was the beginning of a highly risky career, which she had happily chosen for herself. Her hard work is reflected at the box office followed by numerous potential offers.

Richa's poised manner and profound ken for acting paved her way into the industry back in 2012, when she burst into the limelight with critically acclaimed Gangs of Wasseypur. Ever since, the actor has only strengthened herself in the industry giving one laudable performance after another including Rasila in Ram Leela (2013), Devi Pathak in Masaan (2015) and Sukhpreet in Sarbjit (2016).




Richa's choices may be unusual but she stuck to roles that worked for her and stayed true to her style, so to speak. She will next be seen in the sequel of Fukrey, Fukrey Returns where she reoccurs as the brazen Punjabi don, Bholi Punjaban. Fukrey Returns will hit the screens on December 8.

Richa Chadha to star in British film Bombairiya

In an exclusive conversation with The Express Tribune, the actor gets candid about her time in Bollywood, visiting Pakistan and working in the Pakistani film industry.

ET: You've had almost a decade within the Bollywood industry, what's changed?

Richa Chada (RC): Although I have been in the industry for all this time, it was only in 2012 that I was actually on 'the map' and properly seeking work.




Nothing has changed really. We are still working towards good films to achieve a box office hit. I would say the entire journey has been a lot of fun and I'm positively happy with the choices I have made.

ET: A sequel often lacks the content the original had to offer and all subsequent performances pale, no matter how hard you to try. Do you think Fukrey Returns will outshine the first part?

RC: It certainly will. Although we understand the idea regarding the original always being better than the sequel, this is something that the producer and director have actively tried to avoid and they are very keen on creating something better than before. So, to answer your question, yes.




ET: Fukrey Returns has a newer version of the classic song Mehbooba. Although such songs are reinvented with new beats, new lyrics or even transformed into a rap song, many still prefer the original versions. What's your take on it?

RC: Well, I myself like the classics but I see the newer versions of the songs as a good tribute to the older ones. I believe the general public also like and appreciate them.

Remaking such classic favourites increases their shelf lives too – the songs that my parents listened to are also the songs I now listen to, just in a different form. So, there's a benefit to creating such remakes.

ET: You're a theatre artist turned film actor, how would you compare the two mediums?

RC: Both are extremely different because theatre is based on stage performances and there are no retakes whatsoever. I still try and do plays whenever I can, since theatre has been a very important part of my life and will always play an important role int the life of an actor.

I know many people who balance their work life between theatre and films. I'm really excited to do both.




ET: You are one of the only lead female actors within Bollywood who has had an opportunity to walk the red carpet for Cannes Film Festival. How do you feel about that?

RC: It's a very fun feeling. I think everybody should have that feeling and experience it at least once in their life because it's super exciting. I cannot exactly describe that feeling. You need to experience it yourself, be there, standing in front of all those cameras… facing them. There's just such a different vibe in that entire city.

Women face discrimination even in small decisions: Richa Chadha

ET: Looking at your script choices, it seems like you prefer intense, more dramatic roles such as your characters in Sarbjit and Ram Leela. Can we say that that's your playing field?

RC:  Well, no - it's all about a good script. Whether it comes from a comedy or a tragedy, I prefer films with good scripts. It's as simple as that.




ET: You visited Pakistan a few years ago, tell us about your experience?

RC: I went with my school for the first time, for Rafi Pirzada Group's theatre play. I can still feel the charm of wandering through the streets of Lahore, roaming around the Anarkali bazaar and having the food at Gawaal Mandi.

People were really nice and warm. Honestly, I feel that everybody on both sides of the border wants peace and it's the leaders that often confuse the public for politics.




ET: Fukrey Returns introduced the idea of releasing exclusive TV commercials, something that's happened for the very first time. What do you think about this initiative?

RC: I love the ads. It's a great concept and let me tell you, this is the reason I love working with the director Mrigdeep Singh Lamba - it's always great to work with a team of creative heads who think out of the box.

Under wraps: 'Eating disorders are best kept secrets of showbiz'

ET: What would be your reaction if you got an offer from someone within the Pakistani film industry?

RC: I think it's something I would really like to do. There are already some Indian actors working in Pakistan and I would love to have such an opportunity. If there's a good script offered to me, I will definitely consider it and would love for the people of Pakistan to accept me.

ET: Do you have any plans of visiting Pakistan again?

RC: I would love to and I'm eagerly looking forward to it. But this time, I'd like to explore more and visit Karachi, Islamabad and all other major cities I didn't get a chance to see when I visited last time.

ET: Padmavati is still under huge chaos, with its release and content under question. Do you think there's still a vacuum or need for freedom to be given to the film-makers in India?

RC: I think freedom should exist not just for film-makers but to all kinds of artists, painters and writers. Art cannot exist when there are so many restrictions.






ET: Do you have a message for the Pakistani fans that are looking forward to Fukrey Returns?

RC: I am always pleasantly surprised to see that I have so many fans in Pakistan following me on social media. I feel extremely proud of that. So, here I send all my love to them and really hope that I keep on entertaining them with good films.

Have something to add to the story? Share it in the comments below.
COMMENTS (3)
Comments are moderated and generally will be posted if they are on-topic and not abusive.
For more information, please see our Comments FAQ