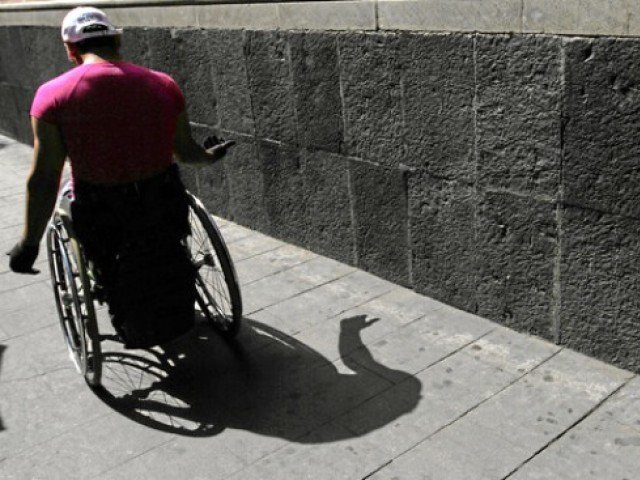 ---
KARACHI: Seven million persons with disabilities do not have access to wheelchairs in Pakistan and are therefore forced to remain within the confines of their homes, said Shafiqur Rehman, president of Milestone - a movement for persons with disabilities.

The government is trying to deny us our constitutional rights by registering the population of persons with disabilities as 0.48% of the entire population in the recently conducted census, whereas the number of persons with disabilities in India is 15% of its population, 17% in Afghanistan and 18% in Nepal.

These disclosures were made during a press conference organised at the Karachi Press Club by the Disabled Welfare Association (DWA) a day before International Day of Disabled Persons, which is being observed today (Sunday).

"At least 20 million people in Pakistan have disabilities, making that 10% of the country's population," said Rehman, adding that Pakistan is losing $12 million every day by not including persons with disabilities in the mainstream economy.

Short numbered: Activists find fault with data on disabled

Disabilities have nothing to do with religion, beliefs or political affiliation and can affect anyone at any time, hence those in authority need to think about persons with disabilities, he said.

According to Rehman, this is one of the largest communities in the world and is found in every town or city.

He said that people start finding disabilities in other's bodies, while the true disabilities are found in people's thinking, resources and infrastructure, which does not allow persons with disabilities access to the facilities the rest of society is able to avail.

He said if all the buildings are made accessible then many perceived disabilities would no longer exist. Rehman said in a country like Pakistan, when a person with a disability is born, the entire family becomes disabled, as they are often discriminated against.  "Before I was born my family was a 'non-disabled' family. The day I was born my family became disabled," he said.

DWA President Javed Raees said that initially the government had planned to not count persons with disabilities in the census but was later forced to on the orders of the Chief Justice of Pakistan, who headed a three-member bench and heard a petition on the issue a day before the counting started.

'Women with disabilities must be included in electoral process'

He said that in the population census held in 1998, persons with disabilities were recorded as 2.49% of the total population.

According to Raees, every year on International Day for Persons with Disabilities, the government does nothing other than organize photo sessions or dance performances of children with disabilities for newspapers.

He said that this day is about awareness and the government should implement the law and policies relating to the disabled community. He said Chief Minister Murad Ali Shah wants to do something for disabled persons but the bureaucracy is creating hurdles for him.

"We need the rights we are entitled to as citizens of Pakistan," said Raees.