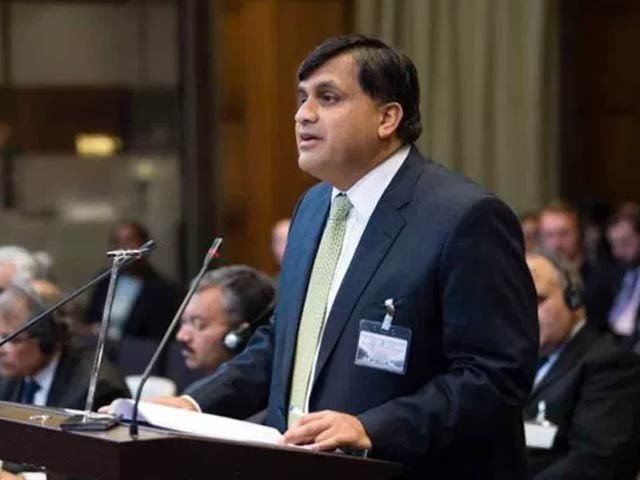 ---
Pakistan has said it is holding talks with the United States in an effort to 'bridge gap' in perceptions between the two countries on issues related to war on terror and overall regional situation.

Speaking at a weekly news briefing on Thursday, Foreign Office spokesperson Dr Muhammad Faisal admitted that Pakistan did not agree with the US policy on South Asia that President Trump announced in August this year.

"There was a difference in understanding and perceptions on both sides," the spokesperson said, adding that the gap in perceptions prompted the two sides to talk to each other. He listed a series of meetings between the two countries in recent months to iron out these differences.

Faisal insisted that despite the differences, Pakistan and the US were trying to find a 'common ground' and move forward in bilateral relationship in a positive and cooperative manner. "The upcoming visit of US Defence Secretary James Mattis is part of efforts by the two sides to achieve that objective," he said.

His comments came at a time when the US is increasingly upset over the release of Jamaat-ud-Dawa (JuD) chief Hafiz Saeed, the alleged mastermind of Nov 2008 Mumbai attacks. The State Department and White House have issued separate statements expressing serious reservations over Saeed's release.

Pakistan calls India 'spoiler' in Afghanistan

Washington has warned that the development will have negative impact on the bilateral ties and that release of Saeed has exposed Pakistan's claim that it is fighting the war on terror indiscriminately.

Pakistani officials, however, insist that it was decision of a court and hence the government had little option to detain JuD leader.

When asked to comment on the strong reaction from US on the development, the FO official said Saeed was detained under the maintenance of public order but refused to offer further comments, saying the Foreign Office had asked the Ministry of Interior for response.

Pakistan's role in Islamic coalition

To a question on the recently held meeting of Saudi-led Islamic Military Counter Terrorism Coalition (IMCTC), Faisal said the aim of defence ministers' conference was to boost cooperation for combating terrorism through intelligence sharing, capacity building, joint exercises and media campaign.

"We highlighted Pakistan's successful counterterrorism operations and the comprehensive National Action Plan. We reiterated our willingness to share our experience with other countries in countering the menace of international terrorism," he added.

Reaffirming Pakistan's historical and fraternal relations with the Kingdom of Saudi Arabia, he said the Defense Minister Khawaja Asif assured Saudi Arabia and the participating countries of Pakistan's support and cooperation within the mutually agreed framework of the IMCTC.

Foreign office condemns Kabul suicide bombing

The spokesperson, however, said Pakistan was also in close contact with Iran at all levels.

Iran, Iraq and Syria are not part of the Saudi coalition – a fact that has raised questions about the exact motive behind the coalition. Pakistan is adamant that the coalition is only meant to fight terrorism and is not aimed at any other Islamic country.

 "India cruise missile threat to peace"

On the latest launch of a cruise missile by India, the spokesperson said the testing was part of the ongoing build-up and induction of sophisticated weaponry and delivery systems by India.

"Pakistan has consistently raised serious concerns about these developments as they negatively impact regional security and stability. This launch is yet another manifestation of the Indian negative trends."

Faisal said Pakistan for its part continues to stress the need for a meaningful dialogue for confidence building, avoidance of arms race and promotion of strategic stability in South Asia. Pakistan's proposal for a Strategic Restraint Regime for South Asia remains on the table.

He said it was no surprise that India chose to exercise 'strategic restraint' on its missile development prior to its application for MTCR membership.

"The recent growth of missile tests by India after its MTCR membership, clearly demonstrates its policy of duplicity, ie, paying lip service to the goals of non-proliferation while developing conventional and non-conventional capabilities that not only undermine regional security but are inconsistent with non-proliferation norms as well," he added.

The spokesperson also expressed concerns over reports of Indian forces using chemical weapons in Indian occupied Kashmir. "We have noted with serious concern the media reports that you have referred to. Such reports need to be verified," he said.

Faisal said the Indian policy of denying access to any independent observers had raised legitimate concerns. "Should these reports find credence, this use would constitute a breach of Indian international obligations under the Chemical Weapons Convention. Similar reports had emerged a few months before. We call for independent investigations into such reports, including through OPCW," he added.
COMMENTS
Comments are moderated and generally will be posted if they are on-topic and not abusive.
For more information, please see our Comments FAQ