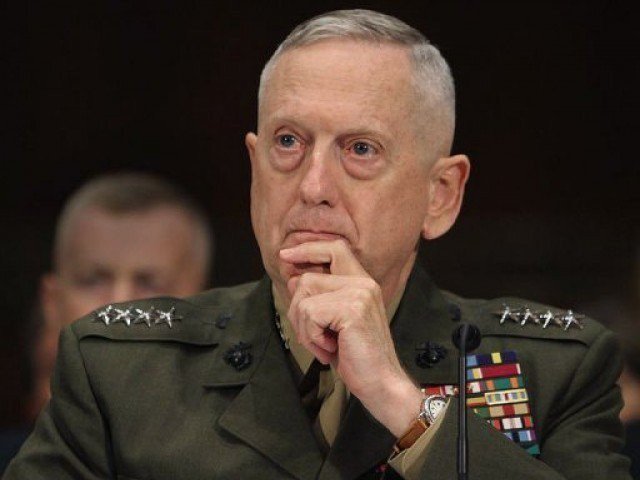 ---
KARACHI: During a high-level meeting between government officials ahead of US Defence Secretary James Mattis' visit in the first week of December, sources told Daily Express that the federal government will clarify its position regarding Hafiz Saeed's release.

Regarding the debate surrounding Saeed's release, sources said the government will apprise the US that the Jamaatud Dawa chief was released on court orders and that Pakistan could not take any action against Saeed since India had not provided any solid evidence of his involvement in the Mumbai Attacks.

The state will, however, reiterate its willingness to cooperate if it is provided with information on Saeed's involvement in any criminal activity. If such incriminating evidence is provided, he will be prosecuted under Pakistan's law and constitution, sources confirmed.

On the growing ties between India and the US, Pakistan will highlight that the current policy is creating an imbalance of power in the region. To broker peace, the Trump administration will have to build balanced relations with Pakistan on the regional level.

Pakistan prepares 'toughest diplomatic policy' for US

Any demands by the US on behalf of India will be rejected by the federal government, sources said. Pakistan will also not entertain any reservations put forth by Mattis regarding China-Pakistan Economic Corridor (CPEC) as it is related to the economic welfare of the country and will be completed at all costs, sources added.

The federal government also intends on informing the Trump administration to overturn its "do more" rhetoric if it wants to strengthen ties with Pakistan.

A strategy to urge the US to adopt a balanced approach instead of the "do more" demand was devised during a high-level meeting between government officials ahead of US Defence Secretary James Mattis' visit in the first week of December. Sources say that Pakistan will express its reservations over the Trump administration's Afghan policy.

Sources told Daily Express that the meeting between the civilian and military establishment concluded that the state would take every aspect into account and bluntly negotiate diplomatic ties with Mattis. The allies will discuss Pakistan-US relations, the Afghan peace process and regional development. Their communication will also include strategies whereby terrorism can be rooted out.

Islamabad will highlight its efforts to eradicate terrorism, brief the US Secretary on the on-going operations and stress that the country does not support or shelter terrorists on its soil, sources said. Pakistan will act promptly when the US provides solid evidence or information about any terrorist activities on its soil.

US warns of repercussions for Pakistan over Hafiz Saeed's release

The civil-military officials also intend on informing the US that no joint-operation will be conducted on Pakistani soil, stressing on the importance of the country's sovereignty, independence and its capability to eliminate terrorism on its own – an example of which is the on-going operation Raddul Fasaad.

On the Afghan peace process, Islamabad will extend its cooperation in reconciliation efforts by advising that the issue cannot be resolved through war. Sources said the government will reiterate that the Afghan President Ashraf Ghani and US government will have to step up their efforts against terrorists organisations directly or indirectly involved in spreading terrorism in Pakistan.
COMMENTS (1)
Comments are moderated and generally will be posted if they are on-topic and not abusive.
For more information, please see our Comments FAQ