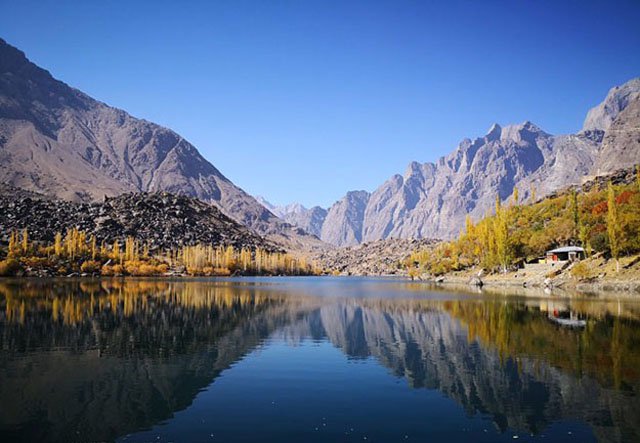 ---
It is heartening to note the positive counter-narrative of Pakistan espoused by the film industry and multi-national brands when juxtaposed with the militant view highlighted by mainstream media. Pakistan's north's beauty eclipsed by years of war is being recaptured picture by picture. Recently, HUM TV featured its popular drama "Yakeen ka safar" in Kutton valley in Azad Kashmir. Months before that, Diyar-e-dil, another HUM TV project, with its particular focus on Khalpu palace, gave Pakistanis some serious travel goals.

Tapu took on a similar challenge in his recent trip to Skardu. He roamed around this central valley of Gilgit Baltistan. His innate love for photography followed him like a shadow in the cold valleys. Mesmerised by the elite beauty of the north, Tapu found it difficult not to frame the surroundings. For a change, he chose to do the shoot on his Huawei Mate 10. This turned Tapu's excursion into Pakistan's first professional smartphone photo-shoot.




The journey was more of a spiritual journey for Tapu. Engraved in the serenity of Skardu, he found it hard to pick the perfect spot for the shot. As he went on with the search, the luring land-sites pulled him deeper inside. This does not come as a shocker to many. Skardu, a majestic place with surreal sunsets, daunting ice capped mountains and verdant pastures makes every new comer forget himself. Tapu could not find words to describe the overwhelming feeling he experienced so he resorted to his most natural medium of expression-photography.

To his good fortune, the absence of professional setting and equipment did not hinder much in his shoot. The Lecia lens in Huawei Mate 10 Pro, in fact, went above and beyond his expectations. The colours were vivid and the pictures were sharp.




Another thing that went into his favor was the handiness. A phone, compared to a camera, is easier to carry around.  Tapu went on to capture more than required. He framed the warmth and hospitality of locals, bonded with them over tea, and portrayed the already beautiful side of Skardu in a unique fashion. The pictures he took will speak to you.




Tapu Javeri continued filling his travel diary as he explored the ever-so-enthralling parts of the place. He stumbled onto the beautiful white, colourless expanse of the famous Shigar Desert. Using the feature-filled phone in his hand, Tapu added a dash of colour to the site after capture.




Tapu was just overwhelmed by the exquisite backdrops of cold desert. The site's beauty becomes more than evident form Mahi's shoots. From lush green trees to the upper Kachura in Skardu, each place left him spellbound. It seems as if Tapu wanted to convey his own wonderment through his shots.




He captured the sun peaking from looming trees. The real-time sensor of the Huawei Mate 10 worked hand-in-hand with Tapu's talent to add utter quality to these pictures.




As the day dawned, Tapu continued to capture Skardu on his phone. He will surely be reminiscing on these shots from his Huawei down the road.