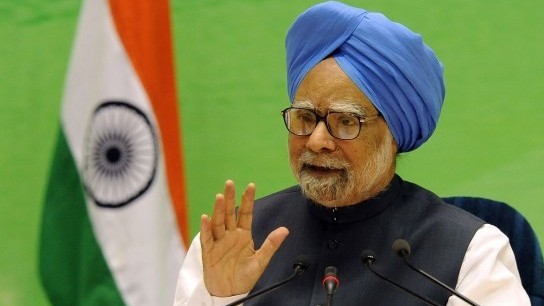 ---
NEW DEHLI: Indian Prime Minister Manmohan Singh said on Monday that a cross-border "trust deficit" was the main obstacle holding back any improvement in relations between India and Pakistan.

He said New Delhi is willing to discuss the Kashmir issue at all levels with Islamabad.

"Prime Minister (Yousaf Raza) Gilani and I agreed that trust deficit was the problem blocking progress," Singh told reporters, referring to recent discussions between the two men in the Bhutanese capital Thimphu. "Pakistan is our neighbour. It is my firm belief that India cannot realise its full development potential till we have best relations with our neighbours," he said, as he reviewed his year in power since re-election.

Two weeks ago, India and Pakistan sought to build on a recent thaw in relations by announcing foreign minister-level talks in July as part of efforts to revive their abandoned peace talks.

Pakistan's Shah Mehmood Qureshi invited his Indian counterpart SM Krishna to Islamabad on July 15. "We are going to make a beginning. The composite dialogue was suspended soon after attack on Mumbai," Singh told reporters in New Delhi. "This is the first major effort to deal with underlying cause which is lack of adequate amount of trust," he said. "I am hopeful that this process can move forward."

India broke off a comprehensive peace dialogue with Pakistan after the Mumbai attacks in November 2008 that left 166 people dead. The assault was blamed by New Delhi on Pakistan-based militants. Since the Mumbai attacks, India has repeatedly rebuffed Pakistani calls for a resumption of the peace dialogue, insisting that Islamabad had not done enough to bring the Mumbai attack masterminds to justice.

Experts say the foreign ministers' meeting will essentially be "talks about talks", or discussions about how to reopen the stalled dialogue. The formal peace dialogue began in 2004 and was intended to resolve all outstanding issues between the countries, including disputes over the divided region of Kashmir, water and maritime boundaries.

Contact between the neighbours has intensified in recent months, seen partly as a result of US pressure for a solution in the volatile region, and in part due to a drive by Prime Minister Singh. In February, the two sides managed a meeting between their senior foreign ministry officials, which resulted in a vague pledge to keep the doors to dialogue open.

The meeting between Singh and Gilani in April, dubbed the "Thimphu thaw" in the Indian media, was seen as a move forward. It took place on the sidelines of the eight-nation South Asian Association for Regional Cooperation (SAARC) summit. Kashmir, a scenic Himalayan territory with a Muslim majority, has been the trigger for two of the three full-fledged wars between India and Pakistan since they were separated in 1947.
COMMENTS (1)
Comments are moderated and generally will be posted if they are on-topic and not abusive.
For more information, please see our Comments FAQ