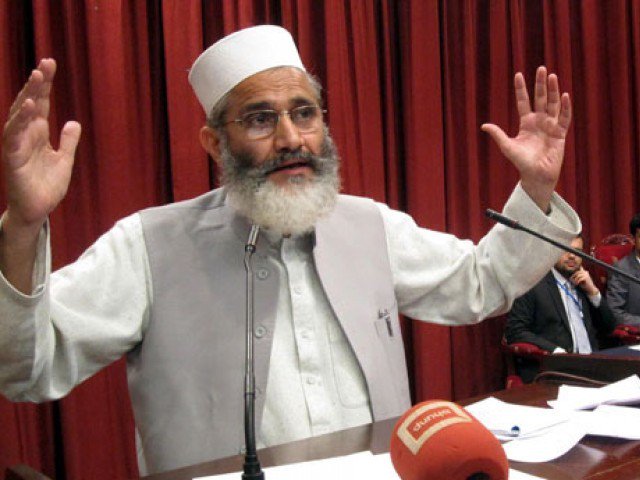 ---
Sirajul Haq, the ameer of the politico-religious Jamaat-e-Islami, has criticised the government for the Faizabad crackdown, saying the use of force has further aggravated the situation.

"The government should have engaged the protesters in negotiations to resolve the standoff peacefully instead of using force," Haq said in a statement.

"The use of force has only worsened the situation," he added.

"It is the government responsibility to expose the conspiracy against Khatm-e-Nabuwat (Finality of the Prophethood of Prophet Muhammad (pbuh). Unless action is taken against those who want to amend the Khatm-e-Nabuwat clause, people will not be satisfied," he added.

Meanwhile Mutahhida Qaumi Movement Pakistan (MQM-P) chief Dr Farooq Sattar said there was no legal justification for the sit-in of Tehreek-e-Labbaik.

Sattar said the action was taken against the protesters to uphold the rule of law; however, the situation remains volatile.

"The government tried its best to engage the protesters to end the sit-it peacefully, but to no avail," he said. "All political parties should have been taken on board [before the use of force] but it was not done."

Faizabad sit-in: IHC issues contempt notice to Ahsan Iqbal

While MQM-P representative Amir Khan said that "the situation is extremely volatile and we are not against a crackdown but it must be done in a way that does not inflame emotions."

Pakistan Muslim League-Quaid (PML-Q) leader Chaudhry Shujaat Hussain said if the current situation was not dealt with seriously it could lead to a 'major calamity'.

He added that Prime Minister Shahid Khaqan Abbasi should have personally gone and negotiated with the protesters.
COMMENTS
Comments are moderated and generally will be posted if they are on-topic and not abusive.
For more information, please see our Comments FAQ