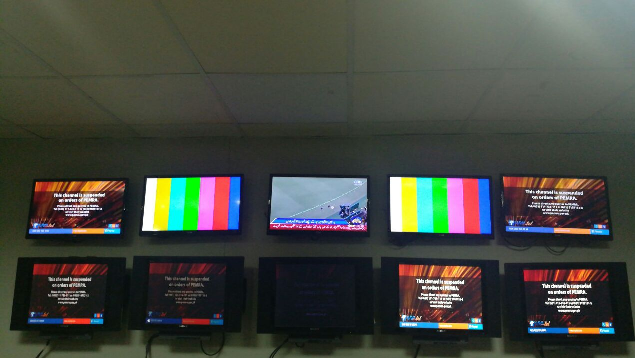 ---
ISLAMABAD: Hours after police and paramilitary forces launched a crackdown on protesters on Saturday, the electronic media watchdog shut down the transmissions of all private news channels, accusing them of violating the code of conduct.

Meanwhile, Pakistan Telecommunication Authority (PTA) was ordered to suspend popular social media networking sites, including Twitter, Facebook, YouTube and Dailymotion.

Private news channels were blocked by the Pakistan Electronic Media Regulatory Authority (Pemra), accusing them of violating media regulations by airing live coverage of the security operation, a statement issued by the regulator said.

"Under the Electronic Media Code of Conduct, 2015, the live coverage of any security operation is prohibited," it said. "TV channels are advised to exhibit utmost sensitivity regarding the matter and refrain from live coverage."

LIVE: Govt calls out army in Islamabad after abortive operation to break up Faizabad sit-in

The spokesperson for Pemra told The Express Tribune that private news channels had been shut on the orders of Prime Minister Shahid Khaqan Abbasi and the Islamabad administration. He said it was not certain how long the transmissions of private news channels would remain suspended.

Meanwhile, journalist and civil society organisations reacted sharply to this controversial move. They condemned the government's move and termed it an attack on freedom of the press.

Total media blackout left people without any information about what was happening in major cities across the country, triggering all sorts of speculations.

A similar media blackout had occurred when General (retd) Pervez Musharraf imposed emergency on November 3, 2007.

Commenting on domestic unrest, religious scholars said that the government should have resolved the situation through dialogue by now.

PEMRA slaps Rs1m fine on Geo News for 'institutional corruption' comments against Pak Army

Expressing grave concern over the agitation that erupted across the country, he said: "The issue was not complicated but it has been rendered complex by both the government and protesters. The issue can easily be resolved through dialogue."

On Friday night, he said the committee held a meeting with protestors that lasted till 2am without any outcome. He said the committee failed in its efforts because both sides were unyielding.

Rehman said that even after the security situation worsened, the government again asked the committee to find a middle ground. "But I was unable to reach the sit-in venue because of road blocks," he said.

Qibla Ayaz, the chief of the Council of Islamic Ideology (CII), said if the government wished, he could hold talks with the protestors. He also endorsed the idea of resolving the issue through dialogue.

"Such unrest is tarnishing the country's image abroad and reinforcing the international perception that Pakistan is not a safe country for investment," he said.




COMMENTS (5)
Comments are moderated and generally will be posted if they are on-topic and not abusive.
For more information, please see our Comments FAQ