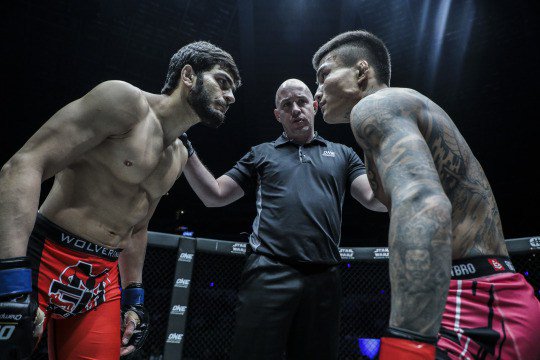 ---
KARACHI: Pakistani mixed martial arts (MMA) fighter Ahmed "The Wolverine" Mujtaba returned to winning ways against China's Kai Wen Li, but not in the manner he would've wanted.

On the main card of ONE Championship: Immortal Pursit on Friday, Mujtaba was awarded a disqualification win in the opening round after his Chinese opponent hit him with seven rabbit punches to the back of his head, rendering Mujtaba unable to continue the fight.

Pakistan, India take their battle into the cage


The 24-year-old Quetta-born was stretchered out of the cage and taken straight to the hospital, and later revealed he had blacked out completely following Li's barrage of rabbit punches, which are banned in almost all major combat sports for their potential of causing permanent damage to spinal cord and brain or even result in instant fatality.


"One-off shot to the back of the head is understandable but he hit me with seven," he said in a Facebook video. "Then it all went black and I couldn't see anything, [which is why], me getting the win was the right decision."


Had Li not resorted to using illegal shots, Mujtaba says he would've still won by way of knock out — a claim that does seem odd considering he was more interested in securing takedowns and taking the fight to the ground.

Mujtaba did rock Li with a straight right in the opening exchanges and even flipped him the bird before the fight after the Chinese refused his offer to touch gloves.

It was clearly personal but Li still had no business hitting Mujtaba the way he did.

Fortunately, Mujtaba escaped with no long-term damage and was cleared by the doctors within a few hours.

Like his training mate Mehmosh Raza, fans, friends and family, his Fight Fortress coach Ehtisham Karim was also concerned about his well-being.

But while Ehtisham criticised Li for endangering a fellow fighter's life, he was also critical of his own protege for deviating from his fight plan and trying to grapple with an accomplished wrestler so early in the bout.

"Li is a wrestler with 50 wins in his wrestling career," Ehtisham told The Express Tribune, "I can't understand the logic of shooting [for takedowns] against a wrestler that early in the first round especially when you've gained confidence with a clean shot."

The Fight Fortress trainer feels Mujtaba's propensity to shoot for takedowns is exactly what cost him his last fight and his undefeated record against Keanu Subba.

"He needs to open up," opined Ehtisham. "Things could've been different against Subba even, had he listened. He needs to trust his hands, his striking."
COMMENTS
Comments are moderated and generally will be posted if they are on-topic and not abusive.
For more information, please see our Comments FAQ