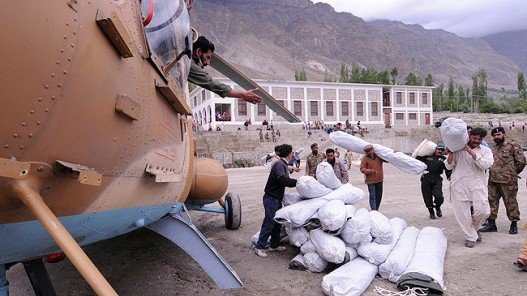 ---
HUNZA:

The Punjab government on Monday announced the compensation of Rs100 million for the victims of the landslide created lake in Hunza.




The announcement was made by PML-N leaders Nawaz Sharif and Shahbaz Sharif during their visit to the area today.




Sharif brothers stressed that the problems of Gilgit-Baltistan must be solved.




Meanwhile, the water level in Attabad lake continued to rise. The situation became more alarming as the gap between the spillway and the water level in the lake narrowed to 6.4 feet.


High alert was declared in Hunza on Sunday, as the authorities prohibited entry to the vacated areas in view of the imminent threat of a flood.

The administration had set May 25 as the deadline for overflowing of water from the lake. But the authorities said that this could be delayed by four or five days as the lake is expanding upstream.

Officials evacuated thousands of people this week amid fears that the lake could burst and affect about 50,000 people downstream.