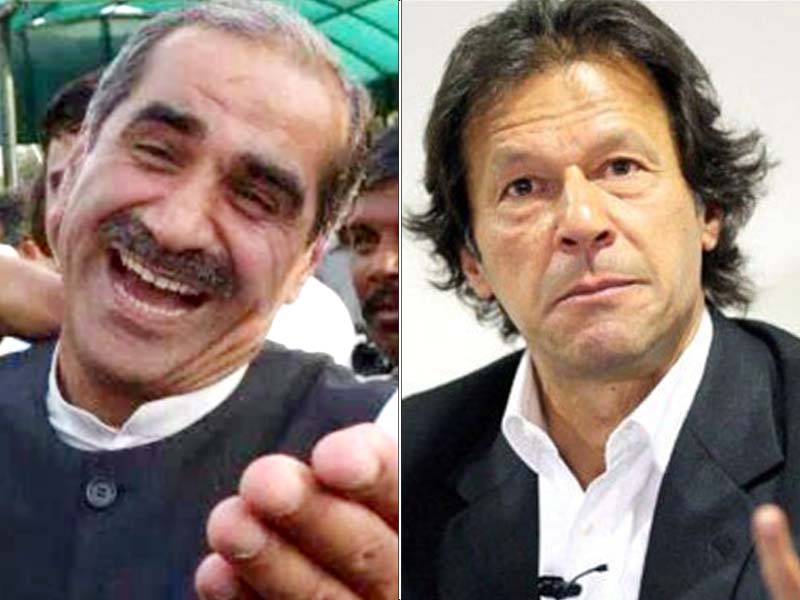 ---
LAHORE: Hours after PTI chairman Imran Khan made Sultana Daku remarks about deposed prime minister Nawaz Sharif, Railways Minister Khawaja Saad Rafique hit back at the former, saying Imran will not even hesitate in "dealing with the devil" for assuming power.

Speaking to reporters in Lahore on Friday, Rafique said Imran does not even know "the ABC of democracy" and "he thinks that the court's verdict in Panama Papers case is his victory", Express News reported.

Earlier in the day, the PTI chairman had said that comparing him to the disqualified premier is an insult to him. "My comparison with him is like comparing me with Sultana Daku," Imran remarked.

Rafique also said, "The decision of the country's political leadership won't be taken behind closed doors anymore… political workers will choose their own leadership."

Comparing me with Nawaz is like drawing comparison between me and Sultana daku, says Imran

Criticising the Pakistan Peoples Party's (PPP) decision of voting in favour of an anti-Sharif bill in the National Assembly, barring disqualified persons from heading a political party, the railways minister said the party had voted against the ideology of Bhutto – referring to former prime minister Zulfiqar Ali Bhutto.

While talking about the PPP's difference with the ruling PML-N over delimitation issue, Rafique said: "The PPP and [Asif Ali] Zardari will be responsible if elections are delayed."

Allegations of treachery and corruption on politicians were not new, said the Pakistan Muslim League-Nawaz (PML-N) stalwart, adding: "Those hurling allegations are however new."

He went on to say that taking a side is necessary in politics as one cannot sail in two boats at the same time. "They willingly voted in Nawaz Sharif's favour and that turned out to be the right decision," he added.
COMMENTS (1)
Comments are moderated and generally will be posted if they are on-topic and not abusive.
For more information, please see our Comments FAQ