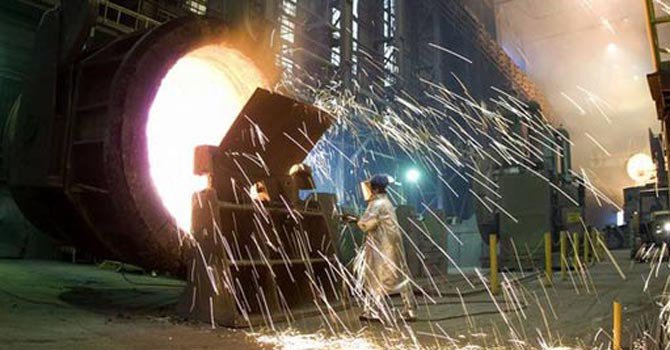 ---
KARACHI: Amreli Steels Limited, one of the largest re-bar makers in the country, has announced to invest Rs1.04 billon in an electrical transmission business through a joint venture with a Chinese company.

The company's board of directors approved the joint venture with Qingdao Huijintong Power Equipment Company Limited, according to a notice sent to the Pakistan Stock Exchange (PSX) on Monday.

The Chinese company is listed at the Shanghai Stock Exchange and is principally engaged in research, design, manufacture and distribution of transmission line towers within and outside China.

Market watch: Stocks fall over 500 points with low volumes

Both companies have agreed to consider establishing a joint venture company in Pakistan, which will be engaged in production and sale of electrical transmission towers and metal structural products, according to the notice.

Amreli Steels will have a 65% equity stake in the joint venture company in Pakistan, which will roughly translate in an investment of Rs1.04 billion. However, the investment is subject to obtaining necessary regulatory approvals.

The board has approved the signing of the joint venture and incorporation of Huijintong-Amreli (Pvt) Ltd (Proposed).  The proposed venture in electrical transmission business shows the growing confidence of the Karachi-based steel maker, which got listed at PSX in 2015.

Amreli Steels went for an Initial Public Offering (IPO) in October 2015 through which it raised about over Rs3.79 billion to fund its expansion plans of Rs3.4 billion. The company's current production capacity is 180,000 tons, but it is currently expanding it to 480,000 that will make it four times larger than any other steel bar maker in the country.

Amreli Steels expects that the economies of scale and new technologies will help it cut manufacturing costs, spread fixed costs and as a result improve margins. With improving security situation, construction and other infrastructure related companies in Pakistan expect better economic activities in coming years.

Corporate results: Amreli Steels' profit decreases 13.2% to Rs196m

For years, Pakistan has been depending on steel imports, and the country still meets about a quarter of its total demand through imports. However, the situation changed dramatically since the announcement of the China-Pakistan Economic Corridor (CPEC) in April 2015. Thanks to new plants and expansions, the country is expected to meet most of its demand through domestic means in the next few years.

Analysts say the announcement of the CPEC projects and the overall positive macroeconomic outlook of the economy in recent years motivated steel companies to raise public equity to expand their manufacturing facilities. Since 2015, three steel companies have gone for IPOs at the PSX. Mughal Iron and Steel Industries and Amreli Steels became public listed companies in 2015 while Ittefaq Iron Industries got listed in 2017.

Published in The Express Tribune, November 21st, 2017.

Like Business on Facebook, follow @TribuneBiz on Twitter to stay informed and join in the conversation.
COMMENTS
Comments are moderated and generally will be posted if they are on-topic and not abusive.
For more information, please see our Comments FAQ