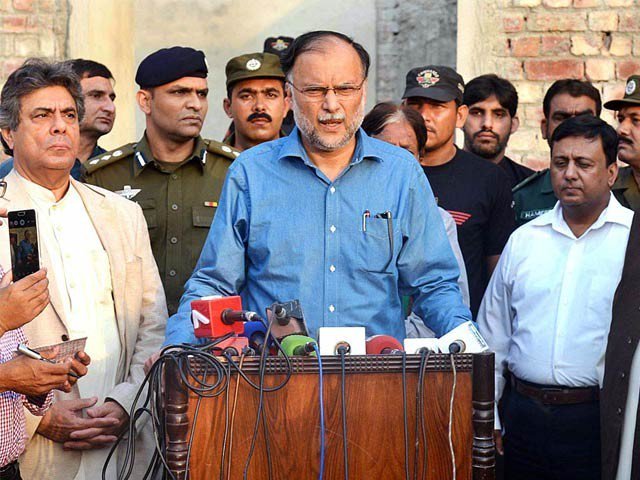 ---
[fbvideo link="https://www.facebook.com/etribune/videos/2096732880343727/"][/fbvideo]

Interior Minister Ahsan Iqbal said on Monday that the government did not want to resort to violence and bloodshed to remove the Faizabad protesters but there were conspirators who actually wanted that to happen.

"The conspirators want to see another incident like the Lal Masjid operation or the Model Town tragedy," the minister told reporters after appearing before the Islamabad High Court in connection with the delay in dispersing the protesters, Express News reported.

"We have informed the court about our efforts to convince the protesters to end their sit-in," he added.

Last-ditch effort averts crackdown on Islamabad protesters

"We have sought more time to do this. The government has also asked religious scholars to help the government in making this possible."

Iqbal said the government wanted the protest to end peacefully.

"We are trying to implement the court's orders [to remove the protesters] but there are reports that some elements participating in the sit-in are seeking a breakout of violence," he maintained.

Khatm-e-Nabuwat clause back in its original form

The minister said the Khatme Nabuwat law had been further strengthened so it was wrong to create an impression that it had been compromised.

"The participants of the sit-in have not helped the cause of Khatme Nabuwat and only served the purpose of country's enemies," he remarked.

Around 2,000 protesters have blocked the Faizabad Interchange in the federal capital for the last two weeks demanding the resignation of Law Minister Zahid Hamid for allegedly amending the Khatm-e-Nabuwat clause in the Election Act 2017.