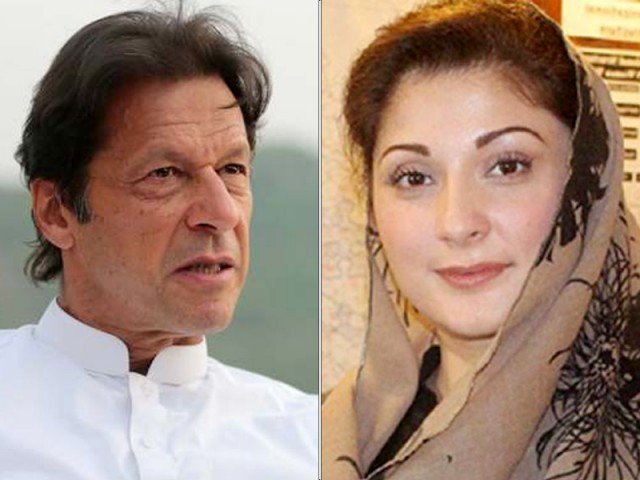 ---
LAHORE/ISLAMABAD: Deposed prime minister's daughter Maryam Nawaz on Sunday directly asked Pakistan Tehreek-e-Insaf Chairman Imran Khan whether he had gotten the order to tweet about Prime Minster Shahid Khaqan Abbasi being a puppet of Nawaz Sharif, and that the premier was holding a position without any authority.

The PTI supremo had criticised PM Abbasi, on twitter, for not having the courage to remove beleaguered Finance Minister Ishaq Dar who is facing a host of corruption allegations.

"Shocking! Puppet of NS [Nawaz Sharif], PM Abbasi, can't remove FM [Finance Minister] Dar the Sharif mafia's front man & absconder from justice facing multiple charges of corruption & money laundering, simply because Sharif mafia petrified that he may spill more beans about their money laundering post his earlier confession," the PTI chief had tweeted on Sunday.

PM weighing multiple options for replacing Dar

Maryam Nawaz hitting back, after almost an hour and a half, said, "Puppet is a word synonymous with you [Imran Khan]. Have you been ordered to post this tweet today?"

The trend of direct replies by party leaders to one another is not very common. This was also the first time that Maryam directly responded to the PTI Chairman who frequently makes headlines for his tweets.

NAB wants Dar's name on ECL

Party reaction

PML-N leaders, when asked about Maryam's move, expressed concerns regarding the 'war of words Maryam was trying to wage on twitter'.

They, while talking to The Express Tribune, said, "She, being the party leader, should make her decisions more carefully." They added that this could instigate an unwanted battled of words on social media between the two leaders. They said it was below her level to take such a heads-on approach.

On the other hand, PTI's Shafqat Mahmood said that it was inappropriate for Maryam Nawaz to give statements against PTI chief Imran Khan on social media.

Meanwhile, PTI spokesperson Fawad Chaudhry said the nation wanted to know who the real prime minister and finance minister are. In a statement, Chaudhry claimed that PM Abbasi wants to remove Ishaq Dar from his cabinet but for some obvious reasons he lacks courage to take that decision.

Chaudhry said the Sharif family has already lost their case and now they have nothing substantial to tell to the masses. He said by using derogatory remarks for the country's apex court and its judges, the former PM Nawaz Sharif would get nothing.

Chaudhry said "Sharif's ideology has been completely exposed before the public following his disqualification by the SC. He alleged that buying loyalties was the hallmark of Sharif's politics, adding Nawaz Sharif minted money from everyone in the past but unfortunately now he has no buyer who could hire him for some 'task'.