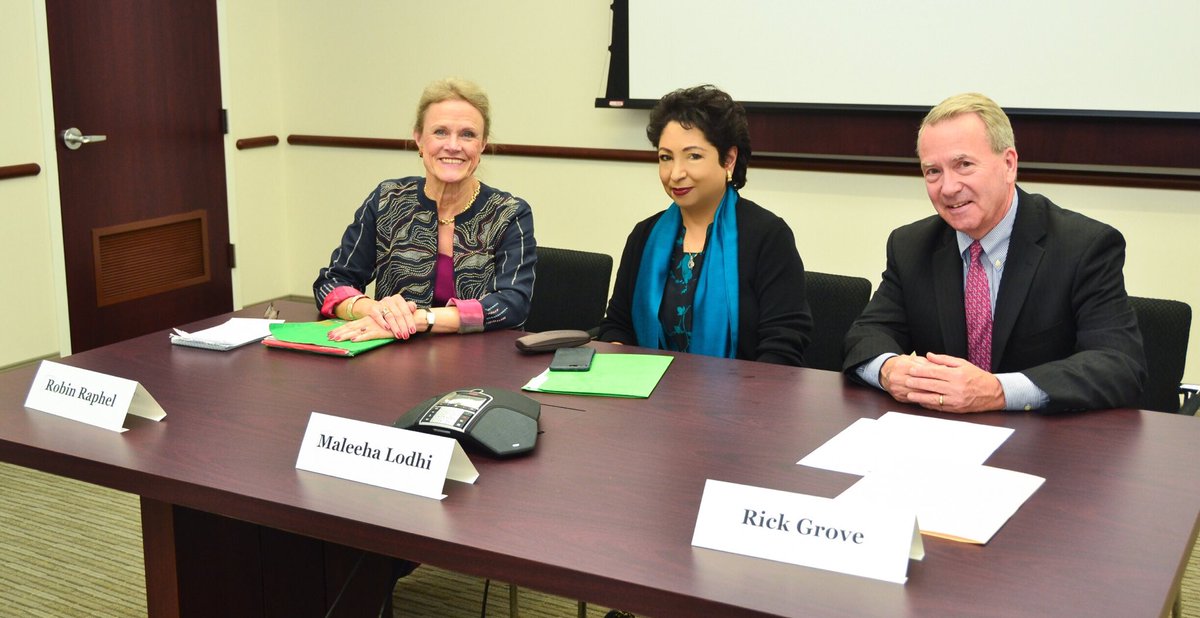 ---
Islamabad and Washington are in the process of resetting ties given the changing geopolitical situation in the region and across the globe, Pakistan's permanent representative to the United Nations Maleeha Lodhi said on Saturday.

Speaking at the International Institute for Strategic Studies (IISS), she stressed that an improved relation between the two countries is important for the world as well as regional peace and stability.

"The nature of future relationship will be determined by terms of re-engagement with wider geopolitical dynamics weighing in on calculations by the two sides," Lodhi told a gathering of American foreign policy experts, academics and businessmen.

UNGA committee: Pakistan 'has turned tide against terrorism'

She said the immediate challenge to find a common approach promoting stability and security in Afghanistan was a shared interest for Islamabad and Washington. Both the countries, Lodhi said, have benefited when they worked together, pointing out that al Qaeda's degradation in the region was a result of cooperation between the two governments.

"Indeed, no one desires peace in Afghanistan more than Pakistan," the ambassador said, highlighting that Pakistan and its people had suffered the most from four decades of the Afghan conflict.

Over 27,000 Pakistanis, including 6,500 military and law enforcement personnel, were martyred by terrorists. While economic losses are estimated at $120 billion. Yet the country has been hosting over 2.5 million Afghan refugees for the last 30 years.


Spoke at a talk organised by the International Institute of Strategic Studies in NY along with Ambasador Robin Raphel pic.twitter.com/AQVML9kX6c

— Maleeha Lodhi (@LodhiMaleeha) November 18, 2017


On the US South Asia policy, Lodhi said: "From Pakistan's perspective the 'new' US strategy in Afghanistan relies overly on military force and more fighting to achieve an outcome, which has proved to be elusive using these means for the past decade and half."

"Neither Kabul and the coalition nor the Afghan Taliban can impose a military solution on each other," she said, adding, "We therefore feel the US, Pakistan and Afghanistan need to actively work towards a peace process."

The envoy reiterated Pakistan's stance of immediate elimination of the presence of Islamic State (IS) in Afghanistan, remnants of al Qaeda and their affiliates including Tehreek-e-Taliban Pakistan (TTP) and promote negotiations between the government of Ashraf Ghani and Afghan Taliban in the Quadrilateral Coordination Mechanism to reach a peaceful settlement.

"Defeating terrorist violence is vital to realise our overriding priority of rapid economic and social development," she said while reaffirming Pakistan's commitment to fight terrorism and extremism.

On the country's all-out efforts to combat terrorism, Lodhi said the clearing of tribal and border areas of militant group were accompanied by economic growth. "In spite of having to face the headwinds from an unsettled international environment, Pakistan has managed to address its political, security and economic challenges to establish stability and consolidate its democracy in the midst of considerable regional turbulence."

US wants to maintain ties with Pakistan

She said the economy will receive a major impetus of projects of the multibillion-dollar China-Pakistan Economic Corridor (CPEC).

In her address, the envoy noted that Pakistan is now experiencing its longest-period of uninterrupted democracy since its inception in 1947.

The hour-long session on "Pakistan's relations with the US in a changing world" was moderated by President of the US Friends of the IISS Rick Grove while former US assistant secretary of state Ambassador Robin Raphel was also part of the panel.

Raphel, who last served as US coordinator for non-military assistance to Pakistan, said Washington could not ignore Pakistan despite ups and downs in the bilateral ties between the two countries as only a joint-effort could promote settlement to end the Afghan conflict.

Lodhi observed that while Islamabad's growing ties with China and Russia gave the country confidence, Pakistan too needed the US.

As a diplomat, she regretted that the overall efforts to deal with the Afghan war were more focused on a military solution rather than through a diplomatic process.

The Pakistani envoy reiterated Raphel's statement, insisting that only a negotiated settlement could restore peace in Afghanistan. "This is also the firm consensus of the international community expressed repeatedly by the Security Council at the United Nations."

(With additional input from APP)
COMMENTS
Comments are moderated and generally will be posted if they are on-topic and not abusive.
For more information, please see our Comments FAQ