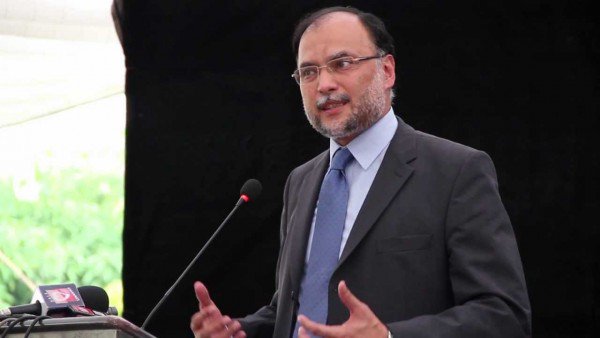 ---
Interior Minister Ahsan Iqbal regretted on Saturday that at a time when an important China-Pakistan Economic Corridor (CPEC) meeting in Islamabad was just days away, yet another 'dharna' had crippled the federal capital.

He tweeted that the seventh meeting of the Joint Coordination Committee on CPEC would be held on November 20 and 21, but there was a sit-in in the capital yet again, comparing the ongoing Faizabad protest to the Pakistan Tehreek-e-Insaf's sit-in in 2014.


7th JCC meeting of CPEC to be held 20-21 Nov, 2017 with high level delegation from China to attend. We have again dharna in capital.

— Ahsan Iqbal (@betterpakistan) November 18, 2017


Around 2,000 protesters at the Faizabad Interchange in Islamabad are demanding the resignation of Law Minister Zahid Hamid over a hastily-abandoned amendment to the Prophet-hood Declaration Clause in the Electoral Reforms Bill 2017.

First round of negotiations between govt, Faizabad protesters concludes

The 7th meeting of Joint Cooperation Committee (JCC) – the highest decision-making body on CPEC – is expected to adopt the revised Long-Term Plan (LTP), which will lay the foundation of cooperation between China and Pakistan till 2030.

The Pakistan Muslim League-Nawaz (PML-N) government has repeatedly criticised political rival PTI for staging an anti-government demonstration at a time when Chinese President Xi Jinping was expected to visit Islamabad to finalise the $55 billion CPEC-linked projects in 2014.

The cancellation of JInping's visit was seen as a major blow to the government at a time when the country was deep in the throes of political turmoil and uncertainty.

He later visited Pakistan in April, 2015.

Mufti Muneeb warns govt against cracking down on Faizabad protesters

The government is trying to persuade the protesters to end their ongoing sit-in peacefully before resorting to the use of force.

The Islamabad administration told the protesters on Friday to end their sit-in by 10am on Saturday otherwise a joint operation by Rangers, Frontier Constabulary and police would be carried out to disperse them.

However, after the deadline expired earlier today, Interior Minister Iqbal postponed the operation by another 24 hours.

A government team started negotiations with the protesters at the residence of Senatar Zafarul Haq on Saturday.
COMMENTS
Comments are moderated and generally will be posted if they are on-topic and not abusive.
For more information, please see our Comments FAQ