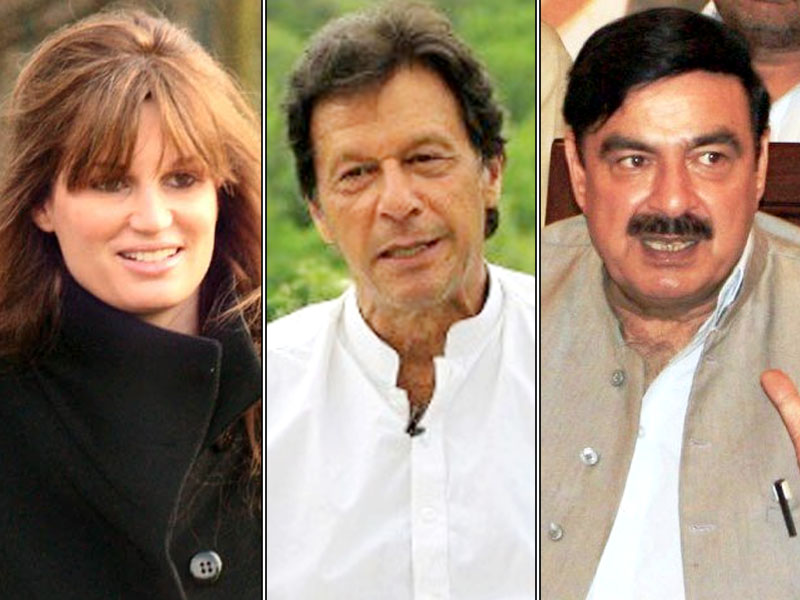 ---
KARACHI: Awami Muslim League chief Sheikh Rashid has said that he would have prevented the divorce between Imran Khan and his ex-wife Jemima Goldsmith if he were friends with the Pakistan Tehreek-e-Insaf (PTI) chief back then.

Speaking in Express News programme, To the Point with Mansoor Ali Khan, the veteran politician said he was impressed by how Jemima stood by Imran in his ongoing court cases.

He was referring to PML-N leader Hanif Abbasi's plea seeking Imran's qualification from the National Assembly over alleged misappropriation of funds regarding the purchase of his Bani Gala estate. Last week, the Supreme Court reserved its verdict in the case.

"I am impressed by Jemima… she has brilliantly defended Imran in the Bani Gala estate case," Rashid told the news anchor.


"@Jemima_Khan سے عمران خان ایک بار پھر شادی کر لیں!!!!"@_Mansoor_Ali @ShkhRasheed pic.twitter.com/I6JZSAMc8U

— To The Point (@TTPwMAK) November 17, 2017


When Imran was apparently struggling to satisfy the apex court, Jemima said she had succeeded in tracking down documents to provide a money trail for the purchase of the Bani Gala estate.

The couple had divorced in 2004, ending nine years of marriage. Rashid, then a member of Pakistan Muslim League-Quaid-e-Azam was highly critical of Imran, who only had one seat in the 272-member National Assembly.

Answering a question regarding former first daughter Maryam Nawaz's political career, Rashid said she was responsible for the political downfall of Sharif.

"Maryam has led Nawaz Sharif towards destruction, God knows where else will she take him now," he said.

On July 28, the top court had disqualified Sharif for failing to declare an unclaimed salary from a Dubai-based company of his son, as an asset when filing his nomination papers in 2013.

Rashid predicted that serious cases against top political leaders will surface in the near future, leading to a 'kick-march' before March 2018.


الیکشن 2018 میں نہیں ہوں گے، @ShkhRasheedکا دعویٰ@_Mansoor_Ali pic.twitter.com/6t9v5GNYsv

— To The Point (@TTPwMAK) November 17, 2017


Asked to comment on the continuing sit-in in Islamabad by religious protesters, Rashid said amendment in sections related to finality of Prophethood was out of question.

"The PML-N government knowingly struck the chord of conflict. It is due to their mischief that the protest erupted," he claimed.

About Finance Minister Ishaq Dar and cases of corruption against him, the AML chief sarcastically remarked that a medical facility be opened at the NAB headquarters as almost everyone facing accountability has fallen sick.

"Whenever someone gets indicted they fake a cardiac arrest… I demand Justice Javed Iqbal to open a medical facility at the NAB provincial headquarters, so that the ill can be treated there."

Answering a query related to the 2018 general elections, Rashid predicted the polls will not be held on time. "Owing to the drama of 'delimitation of constituencies' staged by the PML-N government, I don't see elections in 2018."

He, however, doesn't see a government of technocrats either.

[/fbvideo]