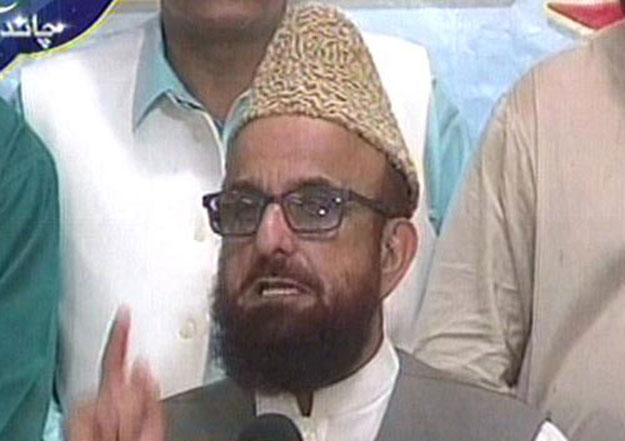 ---
Renowned cleric Mufti Muneeb-ur-Rehman warned the government on Saturday against taking any stern action against the Tehreek-e-Labbaik protesters who have blocked the Faizabad Interchange for the last two weeks.

Speaking to reporters in Karachi, the Ruet-e-Hilal Committee chairman said he was aware of the hardships being faced by the public because of the sit-in, Express News reported.

However, he added that the protesters'  demands were valid.

"The protesters aren't hired by a political party but are pious Muslims, who firmly believed in Khatm-e-Nabuwat (the finality of the Prophet-hood)," he said, taking a jibe at politicians.

Interior minister delays operation against Islamabad protesters

He advised the government to negotiate with the protesters by sending a delegation to them and "accepting their demands".

The mufti said other than government officials, no one else including ulema and mashaikh (clerics) had the authority to negotiate with the protesters. He also advised the protesters to adopt a reconciliatory path.

Expressing his annoyance over the lack of media coverage of the Faizabad sit-in, Muneeb said Pemra – the electronic media watchdog – should take steps to stop the airing of those Ramazan TV shows, which he claimed were damaging Islam.

The Islamabad administration told the protesters on Friday to end their sit-in by 10am on Saturday otherwise a a joint operation by Rangers, Frontier Constabulary and police would be carried out to disperse them.

However, after the deadline expired earlier today, Interior Minister Ahsan Iqbal postponed the operation by another 24 hours. In a bid to persuade the protesters to end their sit-in peacefully, Iqbal also appealed to religious leaders to help the government resolve the issue.

Clear Faizabad, Islamabad admin told

According to Express News, a delegation of the protesters was to hold talks with government officials in the evening. The government delegation will be led by Senator Raja Zafarul Haq, whereas delegation of the protesters will be headed by Pir Afzal Qadri.

Tehreek-e-Labbaik protesters injure three cops at Faizabad Interchange

On late Friday night, Iqbal urged the protesters to end their sit-in, hours after Islamabad High Court (IHC) ordered the capital administration to clear the interchange.

All educational institutes and commercial activities were suspended in the area on suspicion of an expected crackdown on the protestors.

Roughly 2,000 protesters are demanding the resignation of Law Minister Zahid Hamid over a hastily-abandoned amendment to the Prophet-hood Declaration Clause in the Electoral Reforms Bill 2017.

The Election (Amendment) Elections Bill 2017 has been passed both by the National Assembly and Senate, bringing the Khatm-e-Nabuwwat (finality of Prophethood) clause to its original form.
COMMENTS
Comments are moderated and generally will be posted if they are on-topic and not abusive.
For more information, please see our Comments FAQ