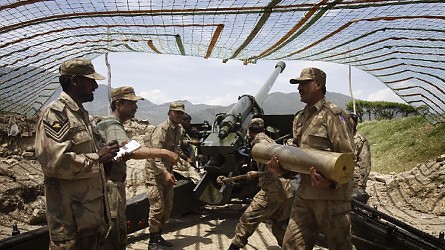 ---
Pakistan Army on Saturday invited some 400 students from Rawalpindi to spend a day with the troops and be enlightened about the functioning of the military.

The programme, according to Inter-Services Public Relations (ISPR), was designed by Rawalpindi Corps. The group of students belonged to different schools, colleges, and varsities who spent a whole day with the army personnel to their organisation and the defence capability.

The students got a chance to lay a flower wreath at Yadgar-e-Shuhada monument Chaklala and witnessed "combat worthiness of troops through combat riding, unarmed combat and heli-repelling", the ISPR statement said.

AJK president praises Pak Army for giving befitting response to Indian aggression

"The students were shown military equipment and given the experience of small-arms firing," it added.

Having keenly observed the phenomenal working of the troops, the students applauded the state of morale, commitment and professional competence of Pak Army and expressed their gratitude for being provided an opportunity to interact with the army men.