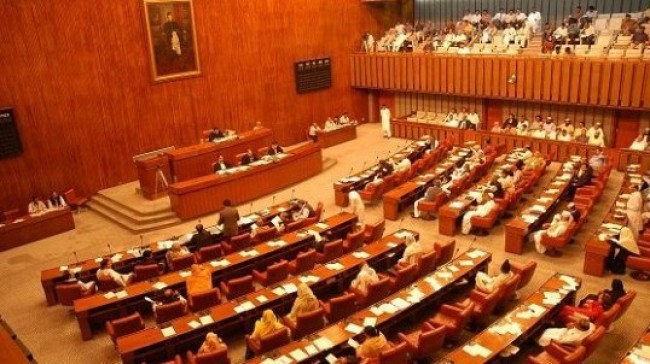 ---
ISLAMABAD: In yet another amendment to 'The Elections Act, 2017', the Senate on Friday passed the declaration of faith to be signed by a voter, if anyone files objection that this person is not a Muslim by faith.

Through this amendment, already approved by the National Assembly on Thursday, a new clause 48-A has been added in section 48 of Elections Act, 2017. Parliament had adopted the act last month.

The newly adopted amendment stipulates that if a person is enrolled as voter, and an objection is filed before the Revising Authority [an official of the Election Commission of Pakistan] that this voter is not a Muslim, the authority shall issue a notice to him/her to appear before it within fifteen days and sign a declaration about his/her belief about the absolute and unqualified finality of the Prophethood of Muhammad (pbuh).

Khatm-e-Nabuwwat clause back in its original form

In case, the voter refuses to sign the declaration that person shall be deemed to be a non-Muslim, whose name will be deleted from the joint electoral rolls and added to a supplementary list of voters in the same electoral areas as a 'non-Muslim'.

In case the voter, against whom the objection is filed, does not turn up after service of notice, an ex-parte order would be passed against him/her.

Section 48 of the act is related to enrolment of non-Muslims, persons with disabilities and transgender citizens. It emphasises that the ECP take steps to ensure their registration as voters and participation in the election process.

The new amendment will be added to this section as section 48-A. The voters against whom the objection is filed would be required to take following oath:

"I… do solemnly swear that I believe in the absolute and unqualified finality of the Prophethood of Muhammad (pbuh), the last of the prophets and that I am not the follower of anyone who claims to be a prophet in any sense of the word or of any description whatsoever after prophet Muhammad (pbuh), nor do I belong to the Qadiani group or Lahore group or call myself an Ahmadi".

Leader of the Opposition Senator Aitzaz Ahsan in his speech in Senate said every Muslim believes in Khatm-e-Nabuwat but he had objection to the way the law was being passed by parliament.

"The law is being passed under pressure and in the atmosphere of fear from the protestors who are staging a sit-in at the Faizabad Interchange of Islamabad. This practice will encourage other pressure groups to come, hold sit-ins and force parliament to pass laws of their choice," he said.
COMMENTS
Comments are moderated and generally will be posted if they are on-topic and not abusive.
For more information, please see our Comments FAQ