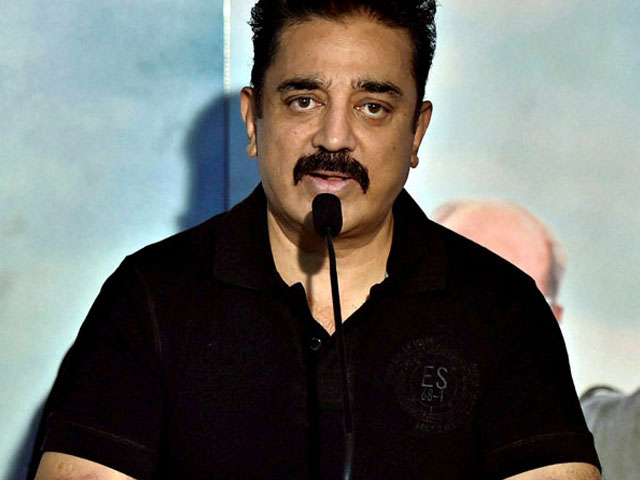 ---
Short of announcing the launch of his political party, actor Kamal Haasan indicated that he may come up with its name by next January and sought to project that he was not anti-Hindu nor did he want to deliberately hurt their sentiments.

Addressing a press conference on his 63rd birthday, he announced the launch of an app #KH with several links. It will act as a digital platform for people to complain and interact with him.

Hindu extremist outfit calls for killing Kamal Haasan for his saffron terror remarks

"I plan to undertake a tour of Tamil Nadu to reach out to people. The dates will be announced later," Kamal said at an hour-long media interaction, which was marked by his trademark replies in riddles.

In his opening statement, Kamal said people would be asking him questions as to when he would launch the party about which he has been speaking, and answered saying, "A lot of prepatory work is being done. I am consulting experts and friends and will make the announcement at the appropriate time.

"Why should I announce a party separately as I am already there."

Answering one of the questions, he said like one of the links to his digital platform, he would be neither be going "left nor right".

Asked about the perception that he was anti-Hindu in view of his recent statements, Kamal sought to suggest that he was only talking about Hindu extremism and not Hindu terrorism.

"I am not starting a party to hurt Hindus. I come from a Hindu family and I do not want to lose the affection of my family first. I am not trying to hurt Hindus but when mistakes are done, I will speak about it.

Rajput community to burn cinemas that play 'Padmavati'

"I am only talking reality when I speak of violence. All Hindus should understand and discuss. Nobody should indulge in such violence. It applies to Hindus and Muslims. When I say extreme, it doesn't mean terror. But there is violence," he said.

To another question about Hindutva elements attacking him, Kamal said, "I only spoke truth. If punishment is given for that, I am ready to accept it."

He was apparently referring to threats to his life from some Hindutva organisations after his recent statement slamming Hindu extremism.

"I have friends and relatives in all communities, though some people are calling me anti-Hindu. I have moved away from my Brahmin moorings. It is a search. There is no pride or shame in it. I am being called an atheist by believers but I am a rationalist."

Explaining why he was not in a position to give details of his political plans, he said he was looking at larger goals and a longer time.

This is unacceptable: Anushka Sharma on 'Padmavati' incident

"You have to give me time for coming out with a manifesto, a name. I am working on the structural part of it. I am in no hurry, there is no need to hurry, I need your support," he said.

Talking about the app, he said the name was derived from the Ashoka Chakra which is a virtuous cycle that has become a vicious circle. He wanted people to be whistleblowers.

"Tomorrow, I may also get some political responsibility and the whistle should be blown against me too. Even I should be questioned," he asserted.

Asked how he would keep away tainted people and money from his organisation, Kamal said he was working on such things too. He added that even in his film career, there has been no black money.

Have something to add to the story? Share it in the comments below.
COMMENTS
Comments are moderated and generally will be posted if they are on-topic and not abusive.
For more information, please see our Comments FAQ