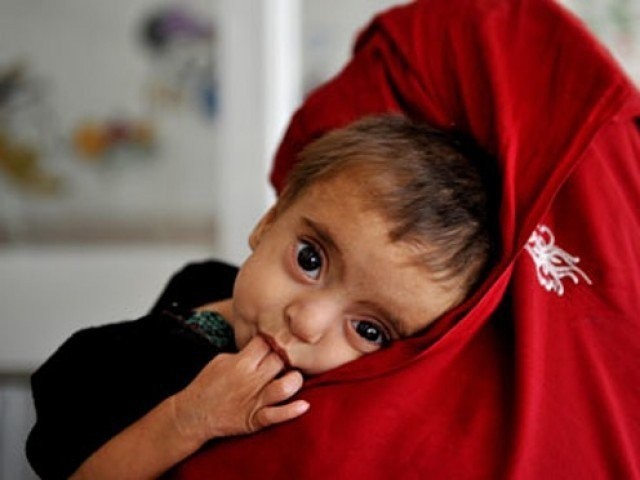 ---
ISLAMABAD: With over half of the country's population affected by micronutrient deficiencies, it is a surprise that Pakistan is still spending only a fraction of its annual budget on nutrition-specific and nutrition-sensitive interventions.

This was revealed by the Global Nutrition Report 2017 launched late last week.

The report — which tracks global nutrition targets including national progress against globally agreed targets for maternal, infant and young child nutrition (MIYCN) — showed that Pakistan spends only around 3.7 per cent of its national budget on nutrition interventions despite having around 52 per cent of the population affected by micronutrient deficiencies.

By contrast regionally, Bangladesh spends 8.2 per cent of its budget, Nepal 13.1 per cent on nutrition interventions.

The report's analysis shows that 88 per cent of countries face a serious burden of either two or three forms of malnutrition - childhood stunting, anaemia in women of reproductive age and or overweight adult women.

Moreover, it notes that no country in the world is on track to meet targets to reduce anaemia among women of reproductive age, with the number of women with anaemia actually increasing since 2012.

Pakistan, it said, also shows no progress in reducing anaemia as the statistics remain static, the report shows.  It says there is no progress against global nutrition targets such as controlling under-five stunting, wasting, and obesity.

Well-nourished children, it said, are 33 per cent more likely to escape poverty as adults, and each added centimetre of adult height can lead to an almost five per cent increase in wage rate, it says.

The report noted that nutritious and healthy diets are associated with improved performance at school. Children who are less affected by stunting early in their life have higher test scores on cognitive assessments and activity level.

In the 140 countries studied, the report found 'significant burdens' of three important forms of malnutrition used as a indicator of broader trends including childhood stunting — children too short for their age due to lack of nutrients, suffering irreversible damage to brain capacity; anaemia in women of reproductive age — a serious condition that can have long-term health impacts for mother and child; and  overweight adult women — a rising concern as women are disproportionately affected by the global obesity epidemic.

Through five areas including sustainable food production, strong systems of infrastructure, health systems, equity and inclusion, peace and stability, the report finds that improving nutrition can have a powerful multiplier effect across the SDGs. Indeed, it indicates that it will be a challenge to achieve any SDG without addressing nutrition.

"If we want to end malnutrition in Pakistan we have to address the direct and underlying causes that include early and frequent childbearing, inadequate feeding practices for infants and young children, inappropriate care-seeking behavior and prevalence of diarrhea," stated Dr Irshad Danish, Programme Manager of SUN Civil Society Alliance and SUN Academia and Research Network.

The root causes are socio-cultural barriers, lack of education especially for women, insufficient health care and limited awareness of proper nutrition, he added.

"When the prevalence of these indicators is widespread, individual risks and deficits can aggregate into a substantial drag on national economic growth," Dr Danish said.

He urged the government to take steps towards improving the situation of nutrition and food security in the country, particularly by implementing the multi-sectoral nutrition strategies, implement the protection of breastfeeding and child nutrition laws and enactment of mandatory food fortification laws at all levels of government.

"Federal and provincial governments are also requested to implement food security and agriculture policies and promote rural development to reduce in-country migration.

In order to safeguard the country's future development and prosperity, Pakistan also needs to increase domestic financing for nutrition and food security.

"Pakistan has to priorities children and places them at the centre of the shift towards healthy and nutritious diets for sustainable food systems will be crucial to achieving the SDGs".

Published in The Express Tribune, November 6th, 2017.
COMMENTS
Comments are moderated and generally will be posted if they are on-topic and not abusive.
For more information, please see our Comments FAQ