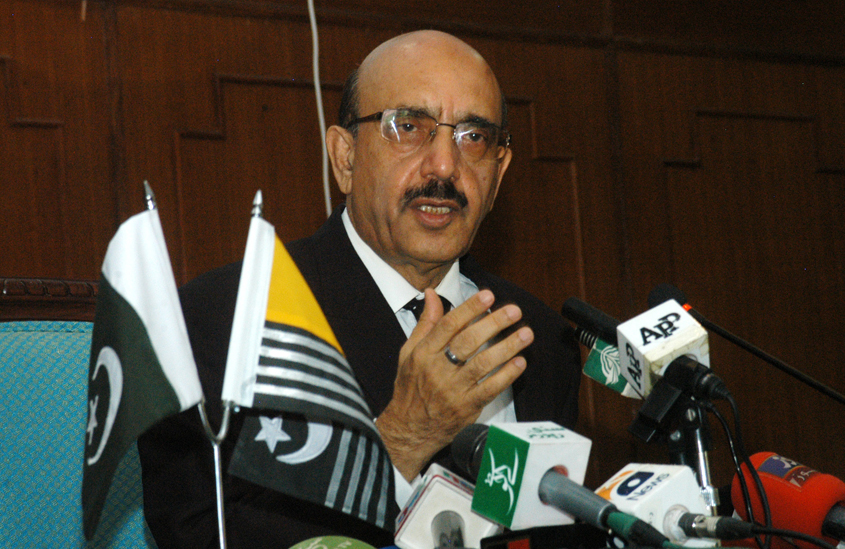 ---
ISLAMABAD: The massacre of 250,000 Muslims of Jammu by the Rashtriya Swayamsevak Sangh (RSS) extremists in 1947, at the behest of the Mahrajah of Kashmir and with the collusion of the India Government and the British Viceroy was the first case of ethnic cleansing after the Second World War, said Azad Jammu and Kashmir President Masood Khan.

"It is a horrendous, unforgivable and unacceptable crime against humanity; and a dark blot on the history of mankind", the AJK president said.

In a statement issued on the eve of Youm-Shuja-i-Jammu (Jammu Martyrs' Day), the AJK president condemned the killings. He added that in addition to the killings nearly 300,000 Muslims were forced to flee their homeland and take refuge in Azad Kashmir and Pakistan.

Masood also paid tributes to the martyrs of Jammu and said that the punishment meted out to them for their demand for freedom continues in Indian Occupied Kashmir (IOK). He added that the zealots of Indian forces continue to butcher Muslims at the smallest excuse.

Two-nation theory still valid in context of Kashmir

The mass killings, the AJK president said, were deliberate and premeditated and the murderous campaign was led and abetted by the state machinery.  The RSS extremists, the Akali Sikhs and the former members of the Indian National Army orchestrated and participated in the killing spree and later on joined the occupation regime installed in Srinagar by Delhi.

"The pogrom of Muslims was partly a revenge for the liberation of part of Jammu and Kashmir which is now called Azad Kashmir," he said.

The root cause of the atrocities in the Occupied Jammu and Kashmir is the denial of the right to self-determination of the people of Jammu and Kashmir, reiterated the AJK president.

Masood said that, despite the passage of 70 years, the sacrifices of the Jammu Muslims have not been forgotten. Their spirit of freedom lives on, as the people of Kashmir continue to give their blood for freedom instead of capitulating to the Indian terror, he added.

The former diplomat added that the people of Jammu and Kashmir and Pakistan will persevere in their struggle until they reach their destination of a democratic solution of the dispute in accordance with the wishes of the Kashmiris.
COMMENTS
Comments are moderated and generally will be posted if they are on-topic and not abusive.
For more information, please see our Comments FAQ