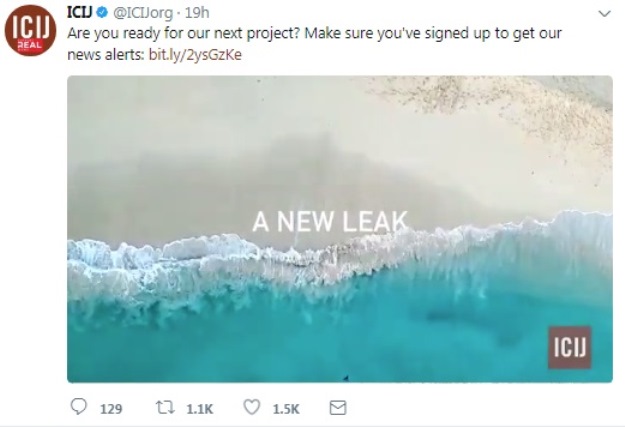 ---
The International Consortium of Investigative Journalists (ICIJ), the media group that coordinated the Panama Papers investigation into offshore companies, is set to unravel its "new leak" on Sunday night.


Are you ready for our next project? Make sure you've signed up to get our news alerts: https://t.co/dyYByA1ylu pic.twitter.com/aU2M96s0CG

— ICIJ (@ICIJorg) November 4, 2017


In April last year, the ICIJ had published 11.5 million documents - dubbed the Panama Papers - from the Panamanian law firm Mossack Fonseca that were leaked to a German newspaper Süddeutsche Zeitung. They revealed how some of the world's wealthiest and most powerful people legally hide their cash.

This time, the ICIJ is expected to expose the financial secrets of the super-rich clients of offshore law firm Appleby.


According to a report published in Business Insider, Appleby admitted that its data had been stolen in a cyber attack last year.


The law firm, which has offices in territories including Bermuda, admitted it was "not infallible" and said some client data had been stolen in the hack, but denied any wrongdoing.

The ICIJ approached the firm with allegations of wrongdoing, after it was handed data obtained in the hack, which Appleby strongly refuted.

Appleby said in a statement it did not tolerate "illegal behaviour," and said the ICIJ's allegations were "unfounded and based on a lack of understanding of the legitimate and lawful structures used in the offshore sector." The firm said it had investigated the allegations "thoroughly and vigorously," and was satisfied there was no evidence of wrongdoing "either on the part of ourselves or our clients."

Appleby, which has branches in tax havens including the Cayman Islands and British Virgin Islands, specialises in advising high-net worth individuals as well as public and private companies. Its clients are said to include FTSE 100 and Fortune 500 companies, and the individuals affected by the leak are reported to be among the richest in the UK.

The Panama Papers shook the world, especially Pakistan where they caused the ouster of Nawaz Sharif from the post of the prime minister.