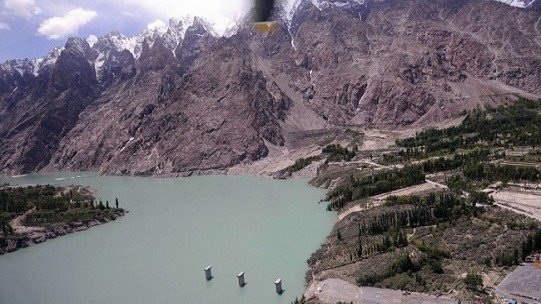 ---
HUNZA: The wall around Attabad lake has been breached Sunday at different points discharging 200 cusecs of water. This incident happened before the water level could reach the actual spillway.

The water level has been increased by 2.7 feet in the lake and is rising by 4 inches every 3 hours, while the water inflow is being recorded 3,300 cusecs on a daily basis.According to an NGO, the water level is still 16 feet below the spillway while eyewitnesses say that this distance has been reduced to only few feet now.

Local authorities resorted to aerial service to provide food and medicines in Hussain, Gilmat and Pisso areas.

WFP responds:

The World Food Programme (WFP) stated Sunday that it will assist the humanitarian community in transporting relief supplies for Hunza.

Responding to a request made by Pakistan Red Crescent Society and the National Disaster Management Authority, the United Nations World Food Programme has started transporting critical relief supplies. A convey of 16 trucks loaded with various essential items  left for Aza Khel, Nowshera near Peshawar. It was seen off by officials of PRCS, NDMA and WFP.

The convoy contains 12,500 blankets, 1,500 kerosene stoves,5,000 plastic sheets, 2,500 hygiene kits, 2,500 kitchen sets, 2,570jerry cans, 2,500 plastic buckets and 195 water coolers.