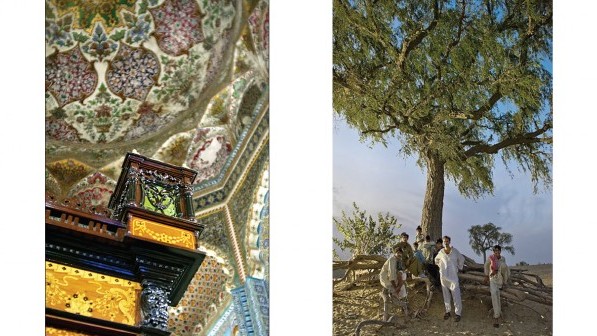 ---
KARACHI: Two Turkish and two Pakistani photographers have joined hands to explore 'the soul of Sindh' through an exhibition at the Sadequain Gallery.

The pictorial exhibition titled 'The soul of Sindh' was organised by the Sindh tourism department at Frere Hall, Karachi, in collaboration with Photospace gallery and the Turkish consulate. It portrayed various cultural colours, ancient places and archaeological sites of Sindh. The photographic work of the Turkish Consul General in Karachi, Fethi Etem, and a renowned Turkish photojournalist, Mehmet Okutan, was showcased along with Pakistani photographers Tapu Javeri and Arif Mahmood.

Sindh Tourism Minister Shazia Marri said that the photo exhibition highlights the true colours and the hidden treasures of this land, adding that the history and culture of this area would be promoted through this event.This exhibition will attract the world towards the rich culture and archaeological sites of Sindh, boosting tourism, Marri hoped. "Sindh is a beautiful place with a very deep culture and the experience of interacting with the people of Sindh was incredible," claimed Etem, "They are people with great emotions and deep feelings and those emotions are captured in our photographs."

Photographer Arif Mahmood said that he really enjoyed taking pictures with the Turkish photographers as he discovered the true beauty of Sindh. When you look deeper into the Sindh culture you see a heavy Sufi base with shrines and saints, he said, adding that it is a province of many different colours and flavours. Photographer Tapu Javeri believed that photographers speak the same language that is universal and beyond boundaries. He said that communicating with the Turkish photographers on that level was truly a fascinating experience.

Javeri added that his and Mahmood's pictures were different from Etem and Okutan because what they found fascinating as visitors that he and Mahmood found mundane and that really shows in the pictures. The four photographers worked together for a month on this project and visited several districts of Sindh, depicting the unique perspectives of the province. This is the first such effort to depict the true picture of Sindh from all angles, commented Marri. "This is the day of tourism. This is the day of Sindh. It is the real face of Sindh, the real soul of Sindh," she said.
COMMENTS (5)
Comments are moderated and generally will be posted if they are on-topic and not abusive.
For more information, please see our Comments FAQ