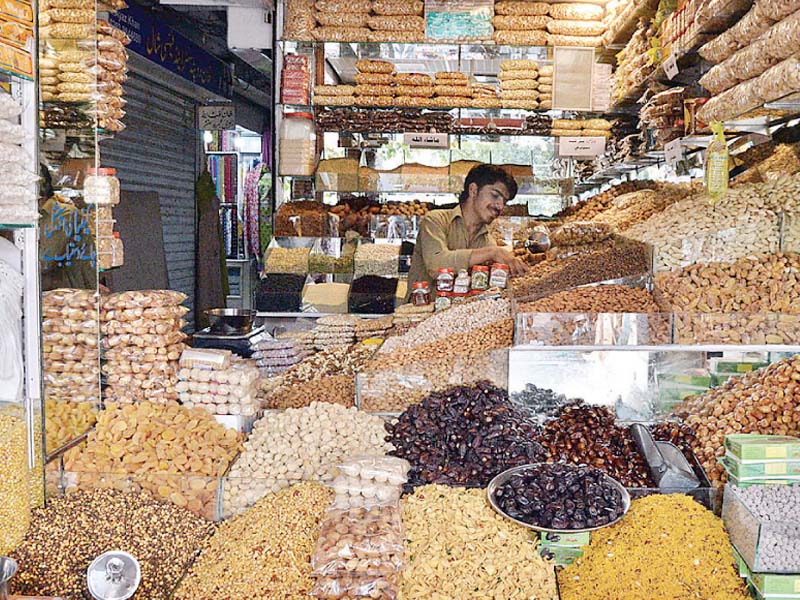 ---
ISLAMABAD: Change of weather in federal capital has increased demand of dry fruits, which has also resulted in rise in their prices.

Be it almonds, pistachios, walnuts, dates, cashew nuts, peanuts, coconuts or dried apricots and figs, rates of the favourite winter munch have taken flight.

With sky-rocketing prices, dry fruits have practically gone out of reach of many people.

Prices of dry fruits in Islamabad are high as compared to markets located in the areas where dry fruit is available in abundance.

On top of the price chart in Islamabad is the price of pine nuts locally known as chilghoza. The small wonder is selling for Rs4,000 per kg approximately, but in the areas where it is grown, it is sold at half price of Rs2,000 per kg.

The prices of other dry fruits like almond, cashew nut, pistachio, and walnuts have risen sharply along with a corresponding increase in demand.

In plain mathematics, the rates in market of origin are doubled when the commodity reaches the capital. Prices of dry fruits are double in the federal capital. Almonds in shells from Iran or Afghanistan are bought at Rs500 per kg in Quetta dry fruits market and shipped northward to sell at Rs1,000 per kg in Islamabad.

Bare necessities: Vegetable rates through the roof yet again

Similarly, the price of cashews in Quetta is Rs320 per kg but in federal capital these are sold at Rs670 per kg.  Whole walnuts, though grown in abundance in the country, are bought at Rs450 in Gilgit-Baltistan than transported southward to Islamabad where the hard nut to crack fetches more than Rs700/kg.

While unsalted pistachio in shells sells for about Rs800 in wholesale markets of other parts of the country, it costs Rs1,100 in the capital city. The cost of favourite winter-chew further ticks up with packing. Dry fruit prices are even higher at superstores where these sell them in attractive packaging.

Traders blame short supplies from Afghanistan and Iran from where imports are slowed down in arrivals through illegal channels and smuggling in the some six month after border checks.

It is commonly observed in our society that during winter, people present dry fruits to their guests as hospitality. In the chilly weather, the number of vendors selling dry fruits has also increased as they can be seen along every roadside near bus stands and in markets.

Temperatures in Karachi to drop from today

However, with the increasing demand, the prices of dry fruits have also increased manifold and buying them has become only a dream for the low income people.

The most favourite and popular dry fruit thus remains the peanut. Vendors serving hot peanuts roasted in sand are the charm of the winter in the city. Late night gatherings of friends and family are not complete without peanuts. Due to Medical experts say these dry fruits contain great amount of energy.

Published in The Express Tribune, October 29th, 2017.
COMMENTS
Comments are moderated and generally will be posted if they are on-topic and not abusive.
For more information, please see our Comments FAQ