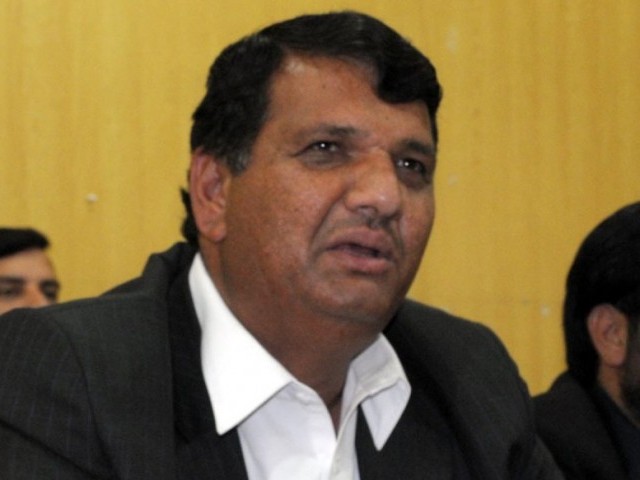 ---
PESHAWAR: Pakistan Muslim League (PML-N)'s provincial president Amir Muqam has alleged that massive rigging took place during by-polls in NA-4, Peshawar and that too in connivance with some officials from the Election Commission of Pakistan (ECP).

The rigging, according to Muqam, was probably done with the consensus of some low-ranked officials since there was a huge difference between the turnout and the votes recorded.

"This is impossible without the support of ECP, maybe some lower ranked officers are involved, but they are involved," Muqam told media persons during a news conference at the Peshawar press club on Friday adding that "they [the provincial government] had already devised a strategy for plan (B), if plan (A) failed and plan (C) in case plan (B) also failed."

Election strategy: Musharraf to push for alliances instead of mergers

"I congratulate Chief Minister Parvez Khattak and Pakistan Tehreek-e-Insaf (PTI) Chairman Imran Khan for materialising all their plans of action, massively rigging the by-polls," Muqam mocked.

Muqam, who also happens to be the prime minister's advisor, ruled out the possibility of army's involvement in rigging the polls. However, he added that the polling staff was changed hours ahead, early on Thursday morning.

"Abdul Hakim, presiding officer at Sorizai Payan reached his polling station where he was told his duty has been shifted to another location," Muqam informed media persons adding that Hakim was not the only example but many others were transferred at the eleventh hour where questions were raised, and suspicions increased.

Muqam also raised questions over the low turnout and the high number of votes casted. "Camps were empty but the boxes turned out to be filled," he informed and questioned."Why was the media not allowed inside the polling premises?"

The prime minister's adviser alleged that the Khyber-Pakhtunkhwa (K-P) government was involved in pre-poll rigging. He further added that all contractors from across the province were shifted towards NA-4 and tenders advertised even after the schedule was announced for the by-polls.

While sharing some adverts with the media, Muqam alleged that not a single developmental scheme was launched after the schedule was announced, adding he would resign if proven guilty for violating the election rules and launching a developmental scheme to cash votes.

PTI retains NA-4 seat from Peshawar

He stated: "the contest was actually between Awami National Party (ANP) and PML-N but suddenly a person, who has recently joined PTI and remained my associate as well, emerged and got over 45,000 votes and that too within the lowest turnout," Muqam commented.

"We would have never raised questions had PTI won by 2,000 or 3,000 lead but 21,000 lead raised questions," he informed adding, "I would have called PTI candidate Amir Ayub and congratulated him had there not been evidence of rigging during the by-polls."

He also congratulated PML-N workers for the efforts they invested, "not even a single person from PML-N contested at NA-4 before 2002, but 24,000 votes suggested people wanted PML-N."
COMMENTS
Comments are moderated and generally will be posted if they are on-topic and not abusive.
For more information, please see our Comments FAQ