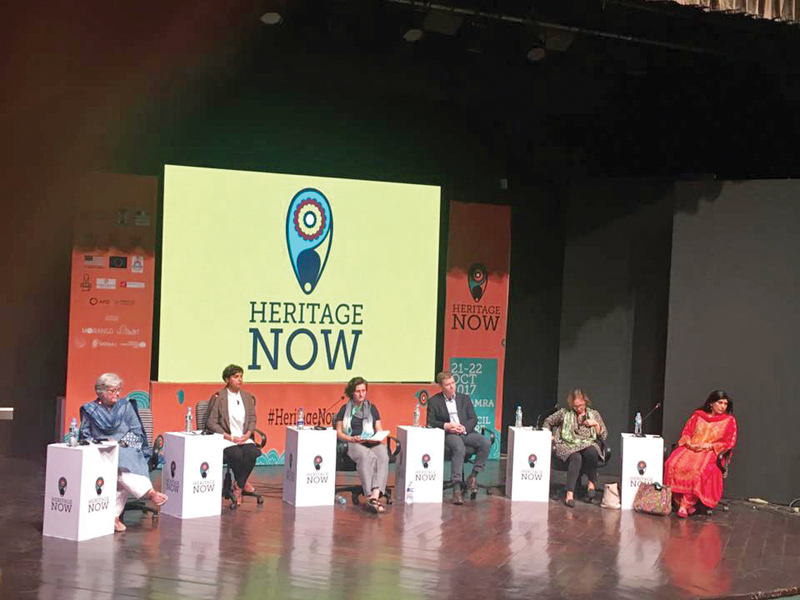 ---
LAHORE: Almost thirty foreign and twenty five national delegates participated in the academic sessions and panel discussions of the two day "Heritage Now" festival which concluded at Alhmara arts council on Mall Road on Sunday.

The primary objective of the festival was to facilitate a public dialogue on the importance of heritage, activate the audience to engage with museums, historical sites and intangible heritage of Pakistan.

The festival was a continuity of the 2-day International Heritage and Museums Conference that was organised in September 2016 by the Walled City of Lahore Authority (WCLA) in collaboration with the British Council.

Emirati heritage: Dubai street art turns urban sprawl into open-air museum




The driving idea behind this festival was to engage local and international audience on the dialogue of heritage with all its manifestations and celebrate the rich cultural and historical identity of Pakistan. One of the many sessions during the two day festival included a discussion and presentation on picture wall and chow Wazir conservation process.

Speaking with The Express Tribune, Aga Khan Trust for Culture Pakistan CEO Salman Beg said that the festival brought out amazing display of rich and important historical features of our heritage. "It was conducive to provide the international delegates with a picture of what efforts AKTC and WCLA are jointly making in preserving the heritage. We hope that next year's conference attendees will get to see more case studies being presented on preservation of heritage," Beg added.

Macquarie University, Australia History Professor Ross Burns said that it was a great initiative to learn a lot about the ongoing conservation projects and how keenly these agencies were working for the protection of heritage

"I think we all saw the true colours of Lahore in this festival," he added.

Forman Christian College History Professor Dr Aarfa Syeda said that was high time we started celebrating and promoting our heritage. "These colourful activities are important for people to know about the importance of Lahore and its heritage," she said. "We are a lively city and we need to tell this to the world that we love and care for our heritage."

Cultural heritage: Royal locks donated to museum  

According to WCLA Director General Kamran Lashari, sharing case studies at a forum like this was imperative since it does not only represent the importance of local organisations' efforts in putting into preserving heritage, but also it will help us garner support from all over the world.

Other activities in the festival included Heritage through Child Art Exhibition featuring visual artworks of children and young people, curated around the themes of Heritage, Culture and Identity. Digital Exhibition of selected Pakistan's heritage sites- A Virtual reality showcase of some of the monuments including series of posters with photographs taken in the Walled City highlighting different aspects of the social life of that part of town.

Workshop was facilitated by the award-winning National Geographic photographer Matthieu Paley and Mareile Paley and was supported by the Annemarie-Schimmel-Haus (German Cultural Centre Lahore).  An exhibition of very recent photographs from the selected heritage sites from across Pakistan, telling stories of how Heritage is central to our lives was displayed. It showcased replicas of artefacts from Pakistani museums.  Terracota by the students of National College of Arts and films from the Lahore International Children's Film Festival Competition were played as a part of outdoor activities.

Published in The Express Tribune, October 23rd, 2017.
COMMENTS
Comments are moderated and generally will be posted if they are on-topic and not abusive.
For more information, please see our Comments FAQ