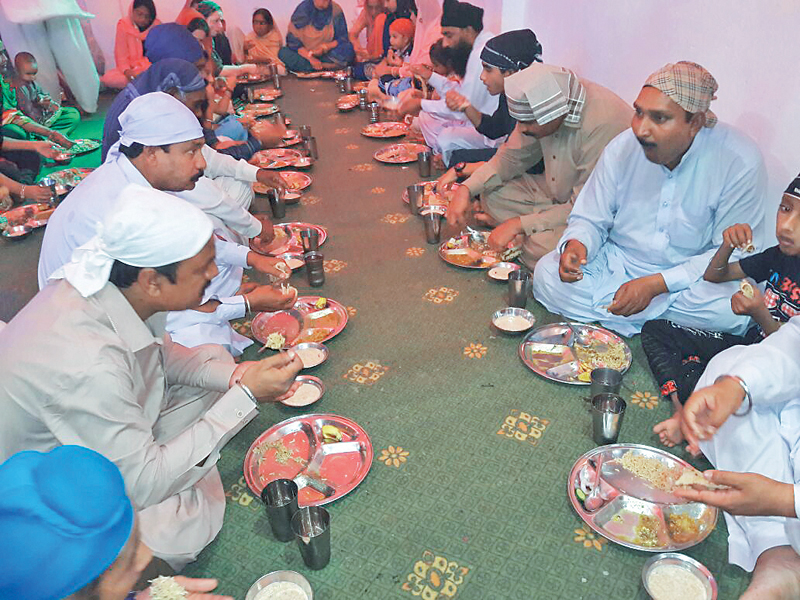 ---
PESHAWAR: Hundreds of Sikhs from different parts of Khyber-Pakhtunkhwa gathered in Peshawar over the weekend to celebrate the 549th birthday of Baba Guru Nanak, the founder of the Sikh faith, with religious fervour.

The three-day celebrations began on Friday at the Gurdwara Bahi Fateh Singh in Peshawar.




Members of the Sikh community including men and women from as far as Swabi, Mardan, Kohat, Nowshera, DI Khan, Buner and even from the Khyber Agency gathered in the provincial capital to celebrate the event. Sikh community members ranging from politicians, religious leaders, students and businessmen gathered at the Gurdwara.



Life of Guru Nanak as poet, traveller

To mark the occasion, the Gurdwara had been decorated with lights, flowers, religious banners and flags while holy scriptures were recited
out aloud.

The celebrations kick-started with a recitation of the Sikh religious book, the Guru Granth Sahib. This continued for a marathon 48 hours. After completing the recitation of the Granth and ragas by the ragis, a ceremonial cake was cut on the final day to mark Baba Nanak's birthday.

The ceremony was followed by special prayers for the country's uplift, promoting unity and protecting the people.

Sikh pilgrims flocking to Hassanabdal

Talking to The Express Tribune, Sikh Community of Pakistan Chairman Radesh Singh Tony said that their community had gathered in Peshawar for the special celebrations, adding that they held their celebrations in a peaceful atmosphere.

Asked about special arrangements made for the visitors, Tony said that said that they had tried to accommodate around 800 visitors for the three-day celebrations.

He added in recent years, after targeted attacks on members of their community, many community members stayed away from the annual celebrations in the provincial capital.




However, now, with the security situation improving in Peshawar, they were able to organise and hold a mega event peacefully where they celebrated openly.

Guru Nanak was born in 1469 at Rai Bhoi Kī Talvandī (present-day Nankana Sahib near Lahore in the Punjab). However, his birth is celebrated as Guru Nanak Gurpurab on Kartik Pooranmashi, the full-moon day in the month of Katak, between October–November.

Guru Nanak's teachings were recorded in the form of a book, the Guru Granth Sahib, in the form of 974 poetic hymns.

Published in The Express Tribune, October 23rd, 2017.
COMMENTS (3)
Comments are moderated and generally will be posted if they are on-topic and not abusive.
For more information, please see our Comments FAQ