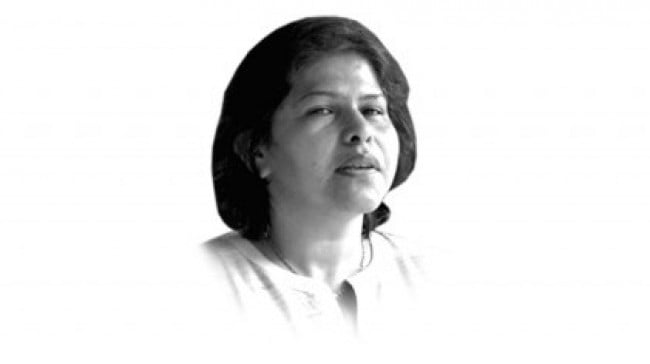 ---
This looks like a season for setting up alternative political parties in and for Pakistan. While some are struggling inside the country to revamp the existing structures or create new ones, others are trying to setup new parties outside.

In Pakistan, Maulana Fazlur Rehman of JUI-F got members of the alliance of religious parties together to revamp it in preparation for the next elections. Similarly, some people have proposed setting up a party of eunuchs in the country. They intend to field candidates in every constituency with the brief message that "we will not make any promises that we cannot fulfill. Others cannot fulfill promises either but we admit that we cannot. All we say is field honest candidates. If you cannot find any then vote for us". A very clear and crisp message! Even more commendable is the fact that these people made an effort to pose as an alternative despite the socio-cultural bias of the society towards eunuchs. Inherent prejudice was a reason that actress Musarrat Shaheen, who was brave enough to contest elections against Maulana Fazlur Rehman, could not win from Dera Ismail Khan.

However, it is truly appreciable that the eunuchs thought of finding an alternative internally when former dictators like Pervez Musharraf are busy scouting out people in the UK and the US who could bank-roll his political movement in Pakistan. Recently, I had a chance to go to one of the events organized from the forum of 'Pakistan First' established and managed by the former head of the Pakistan Cricket Board, Naseem Ashraf. Although the media was asked to come to the event, it was just for a post-meeting briefing by the former dictator. The main event was a private meeting in which he hoped to rope in some of the rich professional expatriate Pakistanis with a desire to make a dent in the politics of the country of their birth. The idea behind calling the press was to show-off that the former general had sufficient support amongst the Pakistani community.

But not everyone invited to the party was a confirmed supporter. Many were there to hear what he had to offer. There were others like an entrepreneur from Philadelphia and another one from Washington state who seemed keen to invest their money in the general. They looked impressed with Musharraf's facebook following which the former dictator touted happily just like he used to cite the figures of mobile phones and motor-cycle purchase in the Pakistan he ruled as a sign of economic progress. Little did he know that spurious consumption goes up also in non-performing economies.

Sadly, numerous rich and influential Pakistani expats believe they can parachute into the country's politics or bankroll potential politicians and thus gain a political foothold. Although the old dictator claimed he would hold elections in the party, he claimed he would initially nominate office-bearers. Most important, he did not offer any idea or agenda to attract people to the party. Every question was answered with a 'we will tell when the time comes' kind of a slogan.

It looked like a political reconnoitering mission in the US. Reportedly, Musharraf did a better job of speaking then his handlers in the US like Naseem Ashraf. Not to mention the fact that Ashraf was one of the better lot. There were others who seemed to be representing the MQM. While talking to those present, these rather dubious gentlemen claimed that they lived in the US only on Musharraf's orders. They had returned to Pakistan but returned on the former dictator's insistence. When asked by people if he did nothing but move around on Musharraf's beck and call, the gent insisted that he had a life and was happily married. The same gent also claimed Musharraf's innocence in signing the NRO saying that nothing moved in Pakistan without orders from Washington.

This particular gentleman, who was part of a gang of three, represented a dubious organization called Pak-American Communication which cannot be found on the web. Someone claimed that the people might have represented the MQM. In that case, the only possibility is that there is some wedge within the MQM that Musharraf plans to benefit from. There are educated people within the ethnic party not happy being pide-pippered by Altaf Hussain.

Thus far, the former dictator does not even have a name for his political party. Perhaps, 'The Facebook' Party or 'Made in the US' might be an appropriate name.

Published in the Express Tribune, May 23rd, 2010.
COMMENTS (44)
Comments are moderated and generally will be posted if they are on-topic and not abusive.
For more information, please see our Comments FAQ