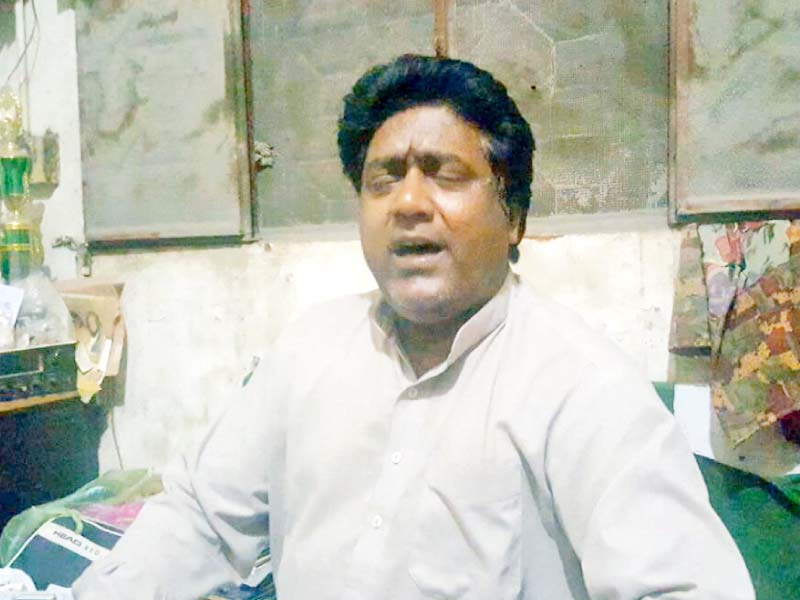 ---
LAHORE:

When shoppers in the Old Anarkali area walk past a makeshift readymade garment shop, few are aware of the remarkable vocal talent hidden within the stall keeper.

Even fewer are conscious of the fact that his name is Ustaad Nasir Ali Khan. His voice would once grace the country's premier radio stations, but now its use has been limited to calling out to customers in the hope they buy enough for him to put a meal on the table. Yet, every evening, after business is done, he sings for the other shopkeepers who gather around him with great enthusiasm.

Shuja Haider's epic journey from queueing for food at Data Darbar to Coke Studio

For this ghazal maestro, Lahore was once a bastion of culture and music, but now he feels that it has no place for the likes of him. The ustaad is seeing the "hearts of Lahori people becoming empty" before his very eyes. "The bastion of culture is dying," he says.

Nasir Ali Khan has dedicated 35 years of his life to music. He keeps the passion alive by composing ghazals, nazam, folks and regional songs. Every evening, he sits in his small cubical office and waits for a miracle, hanging onto the hope that he will come across music lovers who want to revive the long lost culture of Lahore.

"I have been a singer for the last 35 years and I have been on Radio Pakistan since 1994. Yet, I continue to struggle," the ustaad comments. "I cannot understand why the city of lights has turned a blind eye."

Folk singer Shoukat Ali's music immortalised in new documentary 

Due to his obsession with music, Nasir's sleep pattern has also been greatly disturbed. He closes his small office at 3:00am every morning and is awake around three hours later to send the children to school. Even at work, his mind strays to music and he takes a short break to go back home and sit in his office.

The works of Mirza Ghalib, Shehzad Jalandhri, Nasir Kazmi, Purnam Allahabadi, Hina Taimori serve as the muse for his long list of songs which he composes himself. When he starts clearing his throat for the evening's performance, the other shopkeepers of Old Anarkali gather round for a listen. His purpose is to follow his passion and keep the others entertained. Despite going through a severe financial crisis, he even takes the time to offer tea and biscuits to the few who are willing to appreciate his talent.

Nasir has a great ear for sound, mixing and musical structure and this has enabled him to produce work which has the potential to become instantly popular.

"The people of the industry know me very well. They know I am a maestro of ghazal, but it seems all the doors have been closed," he sighs. "I do not know what is happening to me. I really hope that my children do not join this field."

He reminds The Express Tribune that music has two main elements, sur (note) and 'lai' (rhythm). The systematic organisation of musical notes into a scale is known as genre or raag, he adds.

He continues that ghazals are traditionally expressions of love, separation or loneliness. "It can thus be understood as a poetic expression of the sorrow of loss or separation and the beauty of love in spite of that pain," he declares.

Nasir Khan's utmost desire is to establish a music academy for people who have the ability to express true emotion through ghazals.

"I want to spread the knowledge of music; not die empty-handed. It is my wish that people love my music and remember me," he concludes.

Published in The Express Tribune, October 20th, 2017.
COMMENTS
Comments are moderated and generally will be posted if they are on-topic and not abusive.
For more information, please see our Comments FAQ