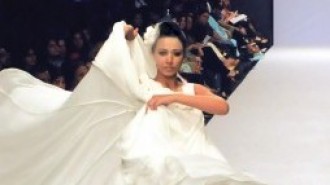 ---
KARACHI: The Asian Institute of Fashion Design (AIFD) has produced some promising names over the years, including avantgarde designer (whose clothes are reminiscent of Gareth Pugh) Adnan Pardesy.

Courtesy the number of fashion weeks being held in the country, the work of these students is finally being showcased on the runway.

The Express Tribune spoke to some of the students who participated at Fashion Pakistan Week held in Karachi this April about their experiences on the ramp, AIFD and fashion.

How did the fashion week show come about? What was the process of showing at Fashion Pakistan Week 2?

Adil Amir Ali: We worked hard for that show. They were nine designers who went up to the ramp with approximately 30 garments to show.

Rida Ahmad: It was our first opportunity.

What are the pros and the cons of AIFD?

Rida Ahmad: They encourage us a lot. There are no cons.

Umama Farrukh: We are learning here. Whatever they (the faculty) tell us to do, we follow.

What kind of support does AIFD give graduates?

Rida Ahmed: Yes, they encourage us a lot. They approached us for fashion week.

What are your plans after graduation?

Anita Nasir: Do street wear. It is hardly done in Pakistan.

Nimroz Ali: I'd like to do ready to wear.

One of the problems with fashion designing schools has been that they focus on European tailoring, whereas the market requires designers to know how to design Eastern bridal wear. What prepares you for this?

Umama Farrukh: Wedding wear is all about embellishments. Yes, designing western wear is difficult

Anita Nasir: Technically, western clothes are very difficult to design and eastern wear is easy compared to it. But now, we in Pakistan are inspired by clothes that have a blend of both and a fusion of east and west.

How do established designers respond to AIFD students and their work? Are they supportive of it?

Rida Ahmad: Rizwanullah, Rizwan Beyg, Feeha Jamshed and Deepak Perwani have all been very encouraging.

Anita Nasir: I believe AIFD has more exposure in Karachi, more than the Indus Valley School of Arts and Architecture; so yes the designers are more encouraging.

What was the thought behind the 'white' theme you used for the Fashion Pakistan Week show?

Anita Nasir: It was because of the current situation in the country, which is in dire need of peace and tranquility. The theme of ivory white was (indicative of) peace.

How were the accessories designed for the show?

Sidra Nasir: We designed all the accessories for it to give it a whole new look. More importantly, we were inspired by the 1920s.

There is something classic about that era and it certainly complemented the entire theme.

Damia Sheikh: They were creative and worked well with the theme. The way we accessorised them was so they were not overpowering the clothes.

Published in The Express Tribune, May 23, 2010.
COMMENTS
Comments are moderated and generally will be posted if they are on-topic and not abusive.
For more information, please see our Comments FAQ