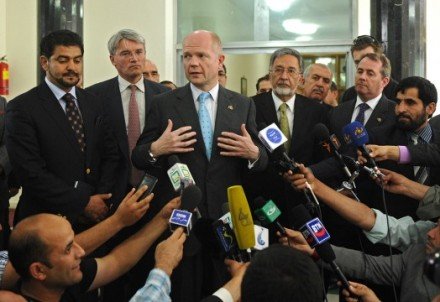 ---
KABUL: British Foreign Secretary along with senior ministers reached Afghanistan on Saturday for talks with President Hamid Karzai.

Foreign Secretary William Hague, Defence Secretary Liam Fox and International Development Secretary Andrew Mitchell will meet Karzai and some of his ministers, visit British troops and also see a British-funded development project, officials said.

The delegation arrived on Saturday morning amid heightened security in the capital, Kabul, and also included British football star David Beckham, who would meet troops at their camps.

The Conservative-Liberal Democrat coalition government formed after Britain's May 6 election says its top foreign policy priority is the strategy for Afghanistan, where Britain has 9,500 troops battling Taliban insurgents.

Conservative leader David Cameron said during the election campaign he would not set an artificial deadline for withdrawing British troops from Afghanistan but said they should start coming home in the next five years.

Fox told the Times newspaper in London, however, that the government hoped to speed up the process.    "I want to talk to people on the ground, our trainers, to see whether there is room to accelerate it without diminishing the quality," Fox was quoted as saying.

The British contingent is part of a U.S.-dominated force that is expected to grow to around 140,000 at its height in a few weeks.

Washington is sending more troops to Afghanistan to seize insurgent-held areas before a planned withdrawal starting in July 2011.

Some 285 British soldiers have died in Afghanistan since2001, when the NATO mission there was launched.