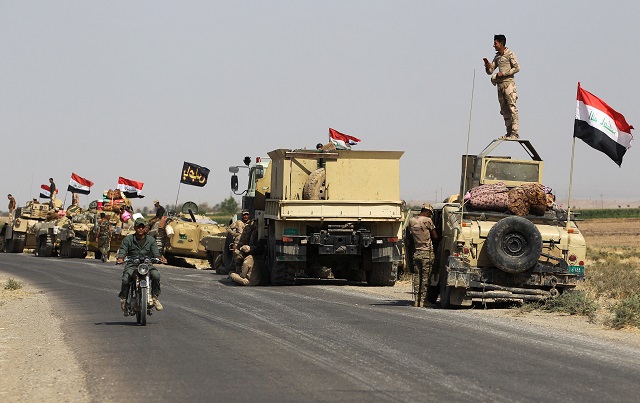 ---
BAGHDAD: Iraqi forces made rapid progress on Monday in their operation against Kurdish fighters in the disputed Kirkuk province, seizing a key military base, an airport and an oil field, commanders said.

Iraq's Joint Operations Command (JOC), which groups all pro government forces, did not specify whether there had been significant clashes in the operation, but the speed of the advance suggested Kurdish fighters were so far withdrawing without resistance. Iraqi troops and allied forces launched the operation overnight after tensions between Baghdad and the Kurds spiralled into an armed standoff following last month's referendum on Kurdish independence.

Violating constitution: Pakistan says Kurdistan referendum 'lacks legitimacy'

The JOC said its forces had retaken the K1 military base northwest of Kirkuk, the military airport east of the city and the Baba Gargar oil field, one of six in the disputed region. Iraq's central government had earlier demanded the Kurds withdraw from military facilities and oil fields they had seized in recent years, mainly during the fightback against the Islamic State group.

The oil fields are particularly contested. Kurdish forces have been in control of six fields in the Kirkuk region providing some 340,000 of the 550,000 barrels per day exported by the regional administration.
Three of the fields - Khormala, Bay Hassan and Havana - produce some 250,000 barrels per day for export and are directly controlled by the Kurds.

The other three - Baba Gargar, Jambur and Khabbaz - are managed by the publicly owned North Oil Company (NOC) and produce some 90,000 barrels per day for export, with revenues going to the Kurds. The JOC said that along with Baba Gargar, Iraqi forces had regained control of the local NOC headquarters.

Kurdish independence vote damages US efforts to preserve unified Iraq

Peshmerga forces loyal to the Patriotic Union of Kurdistan (PUK), a political party linked to Iraqi President Fuad Masum, who is himself a Kurd, were reported to be withdrawing from areas under their control after the operation was launched. Pro-PUK forces were deployed south of the city, including at oil fields, while fighters loyal to the rival Kurdistan Democratic Party (KDP), linked to Iraqi Kurd leader Massud Barzani who initiated the referendum, were deployed to the north.
COMMENTS (1)
Comments are moderated and generally will be posted if they are on-topic and not abusive.
For more information, please see our Comments FAQ