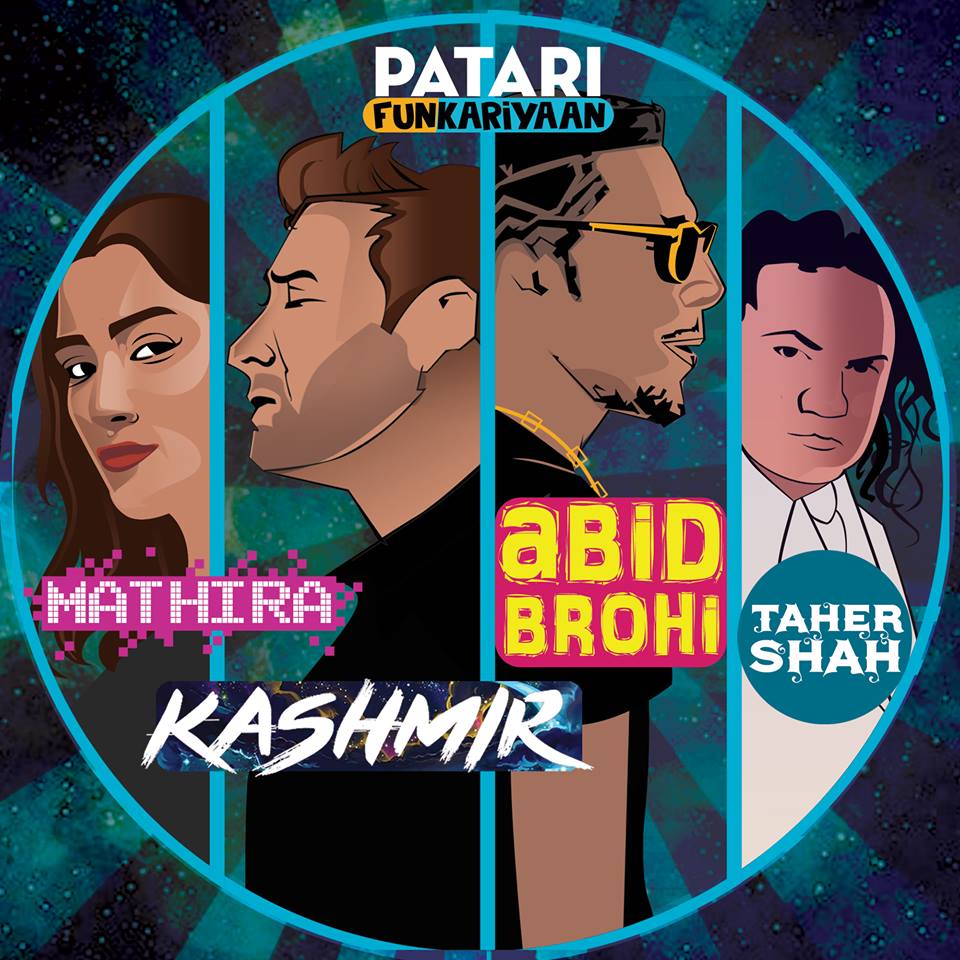 ---
Pakistani music streaming platform Patari has always the kind of brand to put the 'fun' in 'funkariyaan', so it made sense when they came up with a new project called exactly that, Patari Funkariyaan. Two of the three short videos have been released online, which see well-known musicians simply have fun with music without any limitations of stage, audience or costume.

The first video, released a few weeks ago, saw Ali Sethi and Ali Hamza sing wedding and dholki songs in the form of a medley, sitting in a living room. Then came the second video, released last week, which totally threw everyone off.



Never in our lives had we expected that 'music' (cough) by Taher Shah, Mathira or Waqar Zaka would sound so good even when it wasn't sung by them. Patari's second funkaari featured Pepsi Battle of the Bands winner Kashmir and Lyari rapper Abid Brohi, who gained popularity earlier this year with the Sibbi Song. In the video, we see Kashmir vocalist Bilal Ali and Brohi make Shah's Eye to Eye, Mathira's Jhoota and Zaka's Nahi Parha Maine sound so good we wonder why they didn't sing it first.

Who would have thought Shah's magnum opus could actually sound melodic and not creepy? Kashmir and Brohi showed us it can. No one had thought Zaka's 90s outing about his 'parhai ke din' could actually sound so playful and catchy? Brohi did make that happen with his freestyle rap. Same goes for Mathira's Jhoota, which Ali and Brohi completely reform in the video. Brohi's part actually sounds like a whiny lover's aggressive rant, whereas Ali gives it a melancholic touch – which is unlike anything the original did or wanted to do.




Patari's founder Khalid Bajwa shared with The Express Tribune that the third video, which is set to release in a week or two, will feature the popstar Ali Zafar. As to what he will be performing, Bajwa maintained the suspense and said we will have to wait and see for ourselves.

If the previous two videos are any indication, Zafar doing funkariyaan would be something totally unpredictable, hilarious and like most other things he does, melodic. Bajwa shared the whole idea of the series was to give musicians a breathing space and room to have fun. "We didn't really sit down and plan this series. We did a video with Punjab Nahi Jaungi team where they did impressions and the video performed really well. It was spontaneous and it was fun. So, we thought with Funkariyaan, we just wanted to capture this spontaneous feeling of creating music."

"Music today has so much structure, and everything has to go through a process. So, we just wanted to free the musicians up a bit and give them space to have fun without worrying about how they look on screen or any other trivialities, just to capture the spontaneous magic of creation," he said, adding that it was just like suddenly, you're a fly on the wall and you just happen to watch Ali Hamza sing wedding songs in his living room.

Besides that, Bajwa has more ideas about doing funkariyaan with other musicians. "Now that people know what this is about, we can approach other musicians and do a lot of other fun videos. I have a few ideas. I really want QB and Zeb singing Pakistani drama soundtracks, as well as maybe Ali Azmat and Meesha Shafi doing Punjabi translations of English songs. That would be really fun."



Have something to add to the story? Share it in the comments below.