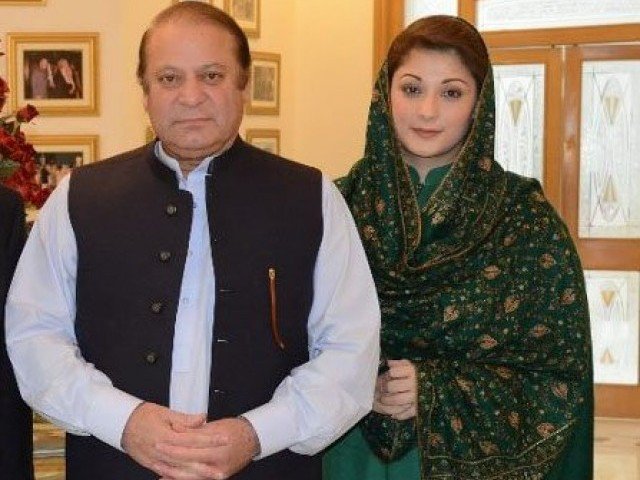 ---
ISLAMABAD: An accountability court on Monday set October 13 as the date for the indictment of deposed prime minister Nawaz Sharif, his daughter Maryam Nawaz, and son-in-law Captain (retd) Safdar in a NAB reference pertaining to the Avenfield apartments on Park Lane in London.

In addition, Accountability Court Judge Muhammad Bashir separated the trial of Hassan Nawaz and Hussain Nawaz from the others and declared them absconders. He ordered the initiation of proceedings under Section 87 (absconding) of the Criminal Procedure Code against them.

Meanwhile, the court granted bail to Sharif's daughter and son-in-law against sureties of Rs1 million each after the former appeared in court and the latter was produced before the court by NAB, which had arrested him from the airport upon his arrival from London.

Minister of State for Capital Administration and Development Dr Tariq Fazal Chaudhry submitted surety bonds of Rs5 million for Maryam while Rab Nawaz Abbasi submitted surety of the same amount for Safdar.


Captain Safdar arrested as he returns from London


Subsequently, the court supplied copies of the reference and relevant documents to them. In addition, the court directed Safdar to seek prior permission from the court before travelling abroad.

The court, hearing the NAB references, issued directions for separating the trials after Sharif's sons who failed to appear before the court despite repeated court orders. The court also recorded the statements of three NAB investigation officers who said the suspects were deliberately avoiding a court appearance and have absconded.

The court also granted an exemption to Sharif for the October 9 hearing on an application filed by his counsel, Khawaja Haris, stating that the applicant was forced to rush to London after finding out that doctors intended to put his wife on chemotherapy from October 11.

The court, however, did not accept Haris' request to adjourn the case for 15 days while Sharif was tending to his wife.

In the application, the counsel said that Sharif, in a previous hearing, had applied for an exemption from appearance on the grounds that he may have to travel to London from time-to-time to be his wife, Kulsoom Nawaz, keeping in view the seriousness of her medical condition and the intensity of treatment.

Haris said the wife of the applicant is suffering from a potentially deadly disease and is literally fighting for her life while undergoing 'combination chemotherapy', adding that it is essential for her to have her husband's support at this critical stage of her life.


NAB references are about revenge, not accountability, says Maryam


While referring to the Supreme Court's order that the references should be decided within a period of six months from the date of filing, Haris requested the court to place the matter before the monitoring judge of the apex court if there was any reservation in passing an appropriate order on the application.

The court, while granting an exemption for one hearing, adjourned till October 13 (Friday), saying that it would proceed to indict Nawaz in his absence if he cannot appear, and Maryam and Safdar in person.

The court would indict Sharif in all three references –Avenfield flats, Flagship Investment Limited and 15 other companies, as well as Al Azizia Company Limited and Hill Metals Establishment– filed against him, while Hassan and Hussain have been separated from all three references.

In the medical report submitted along with the application, Dr Daniel Krell of the Leaders in Oncology Care, London, stated that Kulsoom "continues to be troubled by nausea and vomiting and her oral intake has reduced".

"I am arranging for her to be admitted to Wellington Hospital for rehydration, symptom management, and a dietician's review," he stated in his report of October 6.

In addition, Dr Krell stated that "I plan to treat [Kulsoom] with adjuvant carboplatin and etoposide chemotherapy" on a three-weekly basis for six cycles over five months starting from Oct 11.

Following her appearance before the court, Maryam told the media that when judges allegedly become parties to cases, arguments and evidence have no value. She said it was amusing that her father was facing trial after being disqualified.

Maryam said she and her family were facing cases and several orders passed by the courts in the last one-and-a-half year while knowing full well that this was not accountability, but revenge.

A new kind of law has surfaced where those who intend to appear before the court are arrested from airports, while several absconders were holding rallies and never get arrested, she said, adding that "we are not afraid of being arrested" and are always ready to surrender before courts.

"Trials would continue until judgment day…the questions sent to the JIT remain to be questions till date because they were false allegations which cannot be answered," Maryam said. "I understand what is going on," she added. She said Hassan and Hussain would decide their course of action themselves.
COMMENTS (3)
Comments are moderated and generally will be posted if they are on-topic and not abusive.
For more information, please see our Comments FAQ