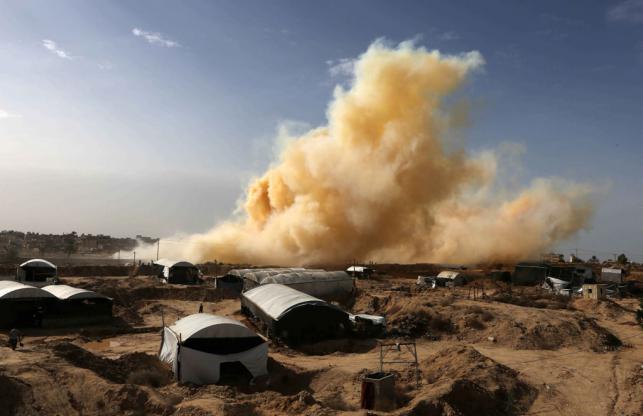 ---
ISLAMABAD: With the US having poured trillions of dollars in the nearly two-decade-long war in Afghanistan with no sign of an end, policy and security analysts have suggested that some elements did not want the war to stop given its profitability.

This was stated by speakers in a discussion on '16 Years of US Presence in Afghanistan: Objectives, Strategies and Emerging Scenario' at the Institute for Policy Studies (IPS) in the capital on Thursday.

US Defence Secretary says will try to work with Pakistan 'one more time'

Ambassador (r) Mohammad Sadiq, a former secretary of the National Security Division, said that America's presence in Afghanistan will always be temporary. However, in light of recent statements by senior US officials, the duration of that 'temporary period' may never be defined.

However, Ambassador Sadiq was certain that the US will continue to stay in Afghanistan in one form or the other either through contractors or through direct troop presence, as in the event of withdrawal by US-led forces, the Afghan armed forces will not be able to take up the war on their own.

Commenting on American policies in Afghanistan since its invasion 16 years ago, he said that the only consistent aspect about them was their gross inconsistency. While US objectives were always unknown, the resources were not managed, and sometimes it even felt as if the situation was more like a "managed chaos" in order to extend their stay.

Moreover, Ambassador Sadiq said that 'unity' was sorely missing in the Afghan Unity government.  "Most ruling elites in Afghanistan have their families and stakes outside the country and would waste no time in escaping abroad if anything goes bad," Sadiq said.

He added that the Afghan elite would never also want the US to leave because of their high stakes in the chaos. Surprisingly, he shared, even the civil society of Afghanistan – which is essentially supposed to be against foreign occupation – supports American presence in the country due to their vested interests.  "When the war brings in so much money, why would one want to stop it?" asked.

Talking about the cat and mouse game between the US forces and the Taliban, he said that the present situation was not due to the strength of Taliban but because of flawed policies of the US.

"It would have been better to address the people who were joining the Taliban out of grievances and not because of the ideology," he suggested. Earlier, veteran journalist Rahimullah Yusufzai stated that 16 years after the US invasion of Afghanistan, the US was lining up another military surge with troop strengths expected to rise from 11,000 to 14,000.

Won't allow Afghan war to spill into Pakistan, says COAS

With Washington pursuing similar surges from NATO partners, the number of foreign troops could rise to as high as 20,000 with a likelihood that B-52 bombers would return to the Afghan battlefield.  Yusufzai said that 16 years ago the Taliban were apparently defeated within the first eight to nine weeks of the invasion, but have somehow managed to survive for a decade and a half and are arguably at their strongest since losing power.

Published in The Express Tribune, October 6th, 2017.
COMMENTS (1)
Comments are moderated and generally will be posted if they are on-topic and not abusive.
For more information, please see our Comments FAQ