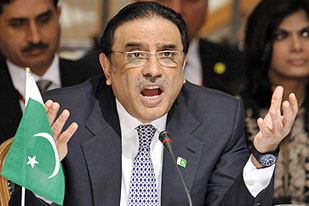 ---
ISLAMABAD: In a surprise move, the government has decided to ask the Supreme Court to define the parameters of presidential immunity.

The apex court is to begin hearing of the case regarding the non-implementation of its National Reconciliation Ordinance verdict next week. This was decided at a dinner meeting of federal and state ministers belonging to the Pakistan People's Party (PPP) which was jointly chaired by President Asif Ali Zardari and Prime Minister Yousaf Raza Gilani at President House. The meeting was part of the consultation process the president is currently undertaking with his party officials before putting up a response to the court's directives to the government for making arrangements for reopening graft cases against him in Swiss courts.

The Supreme Court has summoned federal law minister Dr Babar Awan to explain why the government has so far not written to Swiss authorities for reopening graft cases against President Zardari. Graft charges against Zardari and his slain wife Benazir Bhutto had been dropped after the then president Pervez Musharraf issued the NRO in 2007. But on Dec 16 last year, a Supreme Court bench, headed by Chief Justice Iftikhar Muhammad Chaudhry, annulled the ordinance and ordered the government to reopen all cases dismissed under the NRO.

A participant of the meeting quoted President Zardari as telling the ministers that he did not want a "confrontation" between the executive and the judiciary and would respect the apex court's decisions in all cases. But, President Zardari added, the court "must explain" the article of the constitution which protects the head of the state from all kinds of criminal proceedings while he's in office. An adviser to the prime minister told The Express Tribune: "The government will ask the court to explain before issuing further orders."

Published in the Express Tribune, May 22nd, 2010.